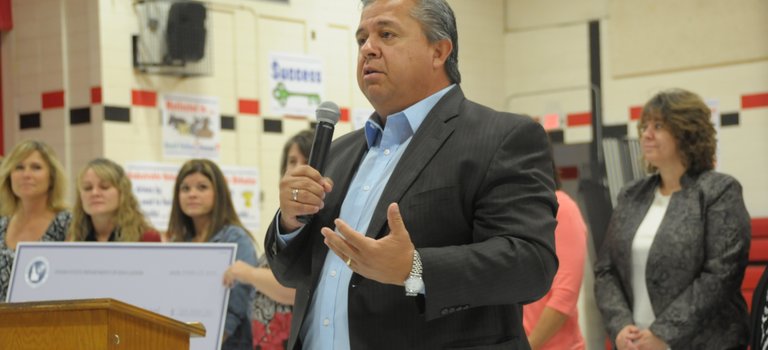 Latest News
Election 2014: Idaho County
Voters have a three-way race of newcomers to decide from in the choice for Idaho County Commission District 2. Up for vote in the Nov. 4 general election, the two-year term is sought by Independent Matthew D. Bybee, Republican Mark A. Frei and Democrat Jerry Zumalt, all of Grangeville. The position's annual salary is $23,945.

Blue ribbon winners
The words on the wall inside Prairie Elementary School says, "Every child learning -every day." Teachers and staff take this seriously, as was evident based on a recent award.

'These trainings help keep mutual benefit and respect and allow some back-and-forth. I can only foresee this cooperation getting better and better.'
What is it like to be dead for an hour? Christopher Osborne – who played one of eight shooting victims for a mass casualty drill held last week – said, "You get a lot of attention." A simulated emergency call went out at 5:28 p.m. on Oct. 15. By 6 p.m., responders from several area agencies had arrived equipped to play-act a deadly scene at the Idaho County Fairgrounds.
A lost Boise hunter was hospitalized following his nearly five-day ordeal in the back country near Warren.
A grant was awarded from the U.S. Department of Agriculture Rural Business Enterprise Grant in May to the City of Orofino to match funds needed to renovate the Rex Theatre. The reel to reel projectors were removed to make room for the new equipment which will transform the nearly 100-year-old theatre.
Sports

2A District I-II volleyball tournament
With a state tournament berth available to the district winner, Grangeville played brilliantly to win in extra sets against both Orofino (26-24, 24-26, 28-26, 25-21, 15-9) and St. Maries (25-21, 16-25, 16-25, 25-22, 16-14) last Saturday, Oct. 18.
The Grangeville cross-country team's meet last Saturday, Oct. 18, was "a great tune-up and preparation for our district meet this Thursday at Potlatch," coach Les Loeber said.
Prairie 72, Potlatch 18
Prairie put up 44 points during the first quarter last Friday night, Oct. 17, and quarterback Jake Bruner had a hand in each of the first four.