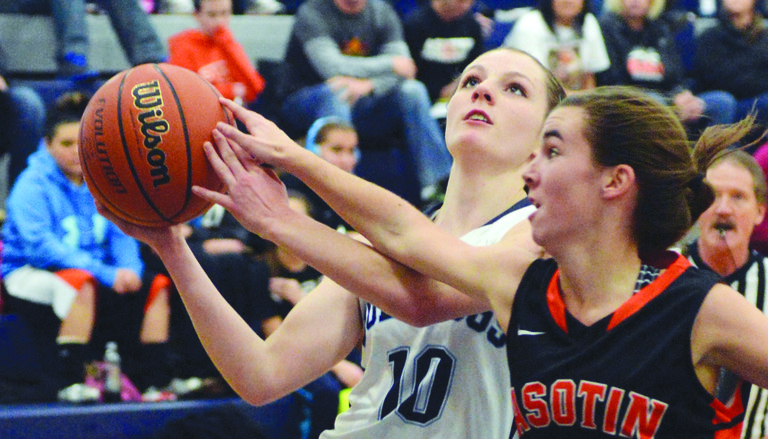 Wednesday, December 11, 2013
GRANGEVILLE — What makes Colton a powerhouse? The Moser names — specifically those of Jenna and Zoe — had a lot to do with Colton's doubling up of host Grangeville last Tuesday night, Dec. 3, as the sisters combined for 34 points — more than half of Colton's output, and more than Grangeville's total in a 62-31 final score. It was the Bulldogs' first loss of the season.
Photo Gallery
Girls Basketball Grangeville vs. Colton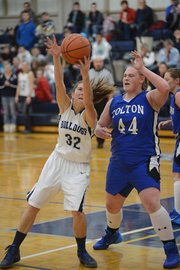 GHS got a team-high nine points from Faith Bieler as the Bulldogs converted just 13 of 22 foul shots.
Though a cold snap continued to slow Grangeville's foul shooters, GHS bounced back with a 48-35 win over McCall-Donnelly last Thursday night, Dec. 5, and capped the week with a 51-32 win over Asotin last Saturday afternoon, Dec. 7.
Photo Gallery
Girls Basketball Grangeville vs. Asotin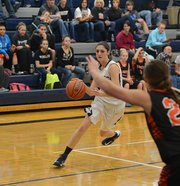 With a press defense forcing frequent turnovers, Grangeville contained Asotin's offense and generated twice as much of their own. GHS outscored Asotin 14-7 during the first quarter.
Then, switching away from their full-court one-on-one scheme early in the third quarter, Grangeville doubled up Asotin again, 13-6.
Hailey Sullivan scored 10 as the only GHS player to make double-digit points.
Against McCall, Sullivan scored 18 on five field goals including four treys while Chantel Key notched 14 points on four baskets and five free throws.
Coming — Grangeville (5-1) was scheduled to host Orofino after the Free Press print deadline on Tuesday night, Dec. 10. The GHS girls will play at 7:30 p.m. on Friday, Dec. 13, at the Idaho County Shootout which combines a basketball rivalry with a sportsmanship contest to raise money for local food banks. Grangeville and Prairie students combined to raise about $13,000 at last year's event.
Next Tuesday night, Dec. 17, Grangeville will visit Clearwater Valley with the varsity set to go at 7 p.m. in Kooskia.