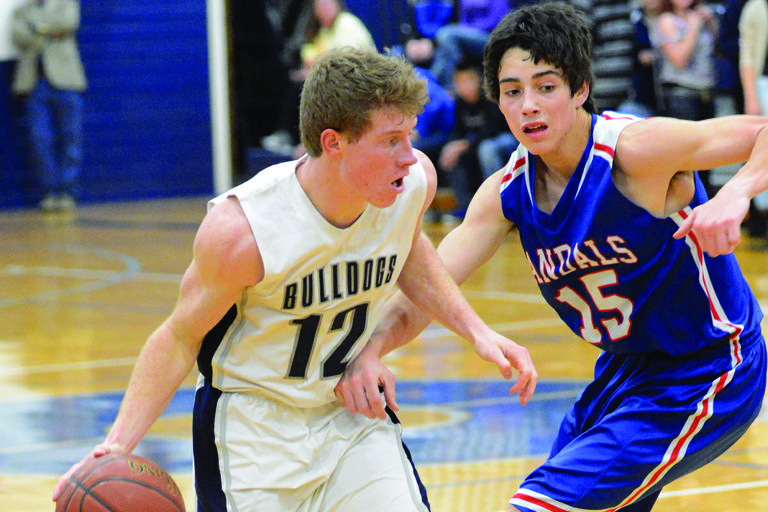 Wednesday, December 11, 2013
GRANGEVILLE — During their final five games of last season — spanning the district and state tournaments in their run up to the 2A championship last season — the Grangeville boys scored 17 three-pointers. Of them, 11 belonged to gunner Michael Wilson, who was in street clothes for the 2013-14 season opener last Friday night, Dec. 6, against McCall-Donnelly.
But even with Wilson out injured, the Bulldogs showed an aptitude for scoring from behind the arc as five players hit at least one three-point shot. Junior Jake Stokes canned two during a GHS flurry late in the first quarter, which stunned McCall and powered a 66-32 Bulldogs victory.
The spurt helped GHS put up 27 points during its first frame of the season, which seemed to stun the visiting Vandals.
Photo Gallery
Boys Basketball: Grangeville vs. McCall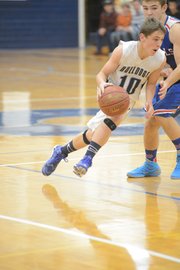 Throughout the contest, the Bulldogs defense created opportunities for the offense to attack in transition, many of which released senior guard Josh Dame to dribble into the front court at full speed.
To the fast break chances, Dame added some good looks out of Grangeville's half court sets and finished with 26 points on 11 field goals including a three. He also went three-for-four at the line.
With the guards hunting for rebounds on the defensive glass, Grangeville was able to create and convert second-chance opportunities as well.
Stokes finished with 10, and eight other Bulldogs carved out space on the stats sheet: Austin Parks (7), Jasper Sabatino (5), Alex Koberstein (4), Garrett Kennedy (4), Layton Harris (3), Wyatt Thanstrom (3), Quaid Blankenship (2) and Max Cawley (2). Parks, Harris and Sabatino had a three-pointer apiece.
The Bulldogs led by 22 at halftime as McCall's top scorer, Bill Shipley, began a tough night at the free throw line.
Grangeville's interior defense — a point of emphasis noted by coach Skip Hall before the season — limited McCall's effectiveness around the basket.
Grangeville's game against Genesee, slated for last Saturday, Dec. 7, was cancelled.
Coming — Grangeville (1-0) visited Colton after the print deadline on Dec. 10. The Bulldogs will play the "Idaho County Shootout" rivalry game at 6 p.m. Friday night, Dec. 13, at Prairie. GHS will travel to McCall for a 7:30 p.m. contest on Saturday. The varsity Bulldogs are set to play at Kamiah at 7:30 p.m. next Tuesday, Dec. 17. (JV at 6 p.m.)