Wednesday, December 18, 2013
WHITE BIRD — We had another beautiful week here in our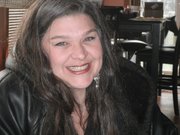 town. It's a little warmer, so for all of you with frozen pipes, times are getting better. Thank you to everyone who has put up Christmas lights. I really enjoy them. I am the biggest bah humbugger on this planet, but there's just something about Christmas lights that melts even this Grinch's heart. I really like Heckman's star and also all the lights around Kilgore's orchard area and Copperville. Nice! It's hard to believe that this time next week, it'll be Christmas Day!
Everybody had so much fun at Tom's 90th birthday party. That man amazes me. It takes all of us women to keep up with him on the dance floor. There was a great turn out for Cactus and Bonnie's wedding celebration. The music was good, the energy was good. I just love this little town and everybody in it! We sure know how to have fun.
The Christmas program and parade are this weekend. The kids will still have practice on Tuesday and Thursday and if you would like to make snacks for them, call Jenny at 839-2721. Sometimes there is a last minute, extra practice, so parents be prepared just in case. The program will start at 5 p.m. and when it's over we will all meet at the park to watch the parade. There will be a fire, hot chocolate and chili. There's still time to enter in the parade if you want. Call Carrie Marek at 507-2120. The Christmas program has been a tradition in this town for many moons. Come and bring your neighbor who needs a ride. For those who can, bring along a gift that can be used as a door prize during the evening.
Canyon House is having a "Last Chance Before Christmas Sale," on Saturday and Sunday. There will be huge discounts throughout the store. All of you guys who wait until the last minute, this will be the last minute! Come in and don't forget to put your name in the pot for the monthly drawing.
Mac's Supper club will be having karaoke this Saturday. They had Mike and Joni come down last weekend and do it, and it was so much fun that they decided to do it again. So, after the parade, head to Mac's and sing your heart out. There will also be karaoke at the Silver Dollar. This draw will be alive with the sound of music.
The cribbage tournament last Saturday brought in 22 players. It was one heck of a game! There were 10 different people in the playoffs. After a long, long playoff, Janis won first and Rick got second. Man, what a game! Join them next week at 2 p.m., in the back room of the Silver Dollar.
My heart goes out to the family and friends of our neighbor, Jim Coulson, who passed away on Saturday.
Happy birthday this week to: Eloy Pineda, Mariah Harvey, Chelsey Fanning, Kyle Meacham, Amelia Fehrenkamp, Nina Sundgren, Amanda Williams, Pat Swallow, Victor Early, Jacki Gordon, Molly Stowers and Kaci Yoakum.