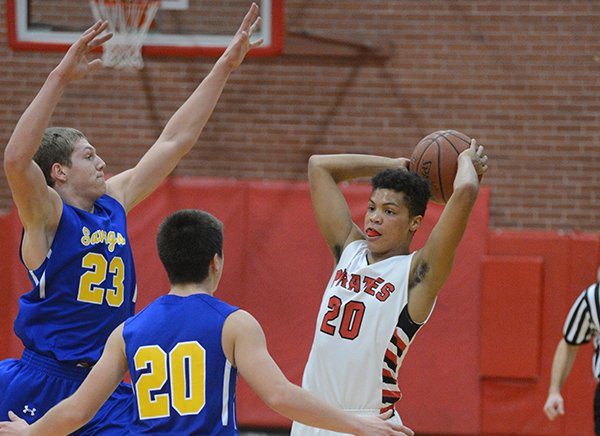 Monday, December 23, 2013
COTTONWOOD — It ended on an uncontested dunk by Salmon River's Leighton Vander Esch, but the second half on Thursday night, Dec. 19, had already seen Prairie leading by as many as 18 points late in a 66-55 Pirates win.
Salmon River's best stretch stalled late in the second quarter, leaving the halftime score knotted at 23-23.
Prairie scored the next 18 points — seven in a row before SHRS called a time-out, then consecutive baskets by Lucas Arnzen, Tanner Ross, Jared Higgins and Tyler Hankerson before Salmon River's Nolan Richerson put in a layup.
The Savages' cause was hobbled by the absence of McCoy Hale, who was not in uniform.
After Vander Esch was slowed noticeably after an awkward fall, Prairie pushed the pace and Salmon River's defense could not keep up.
The Savages were able to hang around by hanging fouls on Prairie players. But whenever Salmon River's rally seemed to gather momentum, Prairie was able to produce a key basket. For instance: late in the third quarter, Vander Esch found his legs and leaped to tip in Jimmy Shepherd's dribble drive miss. Then at the other end, Salmon River forced Prairie into a miss, the rebound of which Ross sniffed out for a timely putback. Then Ross hit a three to lift PHS to its biggest lead to that point, 48-33.
Despite trailing by double-digits, Salmon River again and again turned players loose for one-on-one drives, which produced free throws and allowed SRHS to close within 11 points with nearly seven minutes remaining.
The Savages needed stops, but neither Higgins nor Arnzen obliged; Higgins sank a runner and Arnzen scored a layup to boost Prairie's lead back to 15.
Any attempt at turning the last three minutes into a free throw contest evaporated after PHS rebounded a free throw miss and turned it into an immediate layup.
During the first half, long before the game took its lopsided turn, the teams battled to three ties and three lead changes.
Earlier in the week, Prairie topped reigning 2A champion Grangeville, then handed Whitepine League powerhouse Lapwai its first loss of the year.
With the 1AD2 reigning basketball champions in the house, Prairie served up four double-digit scorers: Ross (18), Higgins (14), Arnzen (12) and Rhett Schlader (10).
Salmon River got 31 points from Vander Esch and 12 from Terrun Zolman.
Coming — Prairie (5-0) breaks for the holidays with a schedule is set to resume Jan. 7 at Kamiah.
Salmon River (2-2) is slated to play at the Orofino Christmas Tournament Dec. 27-28, with a Jan. 10 date with Meadows Valley in Riggins looming as the Savages' first contest of 2014.