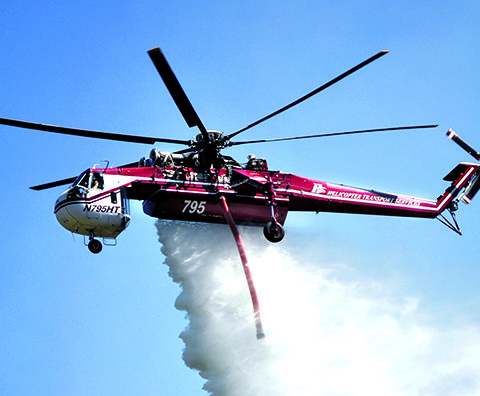 Monday, December 30, 2013
By Lorie Palmer
Each year offers a multitude of interesting people to interview and stories to cover and 2013 was no exception.
Every story I write touches me in some way and I am proud to tell the stories of people in our community. As far as most memorable, several stories stick out in my mind for the year.
Number one would have to be the Jan. 9 bomb threat at Grangeville High School. Not because it turned into an action – it did not – but because, once again, more than 1,000 students from the community as well as parents, teachers and businesses were affected by the idiotic actions of a person who was behaving stupidly.
Our Jan. 16 article read, "the bomb threat via note is nothing new to GHS: Most recently, in 2010, students missed two days of school when a threat was written in a bathroom stall. School was already in session that December day and students were evacuated and picked up by parents. In 2008, a typewritten note also threatened the high school and students missed that day in March. No one was ever arrested in either of these incidents."
Add the Jan. 9 incident to this. No one has of yet been held responsible. I do appreciate the efforts of our local law enforcement. After hearing of the incident early in the morning prior to the Mountain View School District 244 all-call system — I learned of it the way I did all other threats: through one of my daughters via a text from a friend – I set out to discover what I could. Law enforcement took the threat seriously and when I drove up to the school to see what was going on, I was greeted by an officer.
What has changed since Jan. 9? Well, for one, a $2.6 million levy passed and funds within that levy paid for at least part of a camera security system. So, I say to the threat-maker: Go ahead, make our day. Do it again and this time you'll be on video.
Another highlight of the year would have to be when Grangeville Elementary Middle School seventh grader Amrit Singh won the Idaho National Geographic Bee. Amrit's parents, Ken and Dolly, and his extended family, local owners of three gas stations, were proud as punch – yet ever-humble.
I got a kick out of Amrit coming to school the Monday following the bee. Although he did wear a huge grin as his classmates cheered for him, he kept his emotions in check and pretty much shrugged it off as "I didn't do anything special." The town rallied around Amrit as he represented Grangeville and the entire state of Idaho in Washington, D.C., in May. He didn't win there, but he's a winner in my eyes.
July brought with it a chance to visit with school chums John Wagner of Grangeville and V. Wayne Hazelbaker of Hawaii. The two joked back and forth about who was the athlete and who was the Casa Nova in the duo. I appreciate the depth they have gone to in order to preserve their friendship for many decades. Hazelbaker was a helicopter pilot during Vietnam and, lo and behold, I learned local businessman Dave Robinson was a gunner who flew on Hazelbaker's 'copter.
I've known Dave Robinson since I first moved to Grangeville and had my car repaired at his garage in 1995 but I didn't know this about him. What I enjoyed about the camaraderie between him, Wagner and Hazelbaker was the fact that Dave had a genuine, relaxed smile and thoroughly enjoyed visiting with these men. Dave is a very hard worker and I had never really had the chance to see him be at ease like that before. There was also a certain sadness as they discussed the war and what it meant to them. This information wasn't for print but I kept it in the back of my mind as a reminder for me to be sensitive when I listen to the stories of our veterans.
Summer also brought an interview with Idaho County Fair grand marshals Ivan and Dina Nuxoll. Sometimes you just click with people and marvel at the fact of how genuine they are. I felt an immediate kinship with this couple who love their children, Eric and Ellen, and their grandchildren and are fiercely proud of them without being a bit over-the-top. I love that Dina collects cookbooks perhaps more than she ever intends to cook and that she, ever the home economics teacher at heart, makes yearly pajamas for her grandchildren. Just as I was about to walk out the door of their home this summer, I learned Ivan sits down at a table and writes each of his children a letter every week. Every week. He has done this since each left for college. What a treasure of family history and memories for them. And he writes each of their six grandchildren monthly. Wow.
Most recently I visited with and wrote a story on mountain man John Hallam. With his tattooed face and long hair, he may not seem like much of a cowboy, however, he has lived in the woods more than half of his life, living off the land and his wits.
After the story on John appeared, a reader voiced they wish we wouldn't "glorify" his lifestyle. I ask, "Why not?"
John is gentle and when I met with him he was concerned with whether or not I was staying dry in the pouring rain. His piercing blue eyes tell a story of loss and rejection and yet he still trusts those who meet up with him. He is sick with Hepatitis and misses his teenage son who last year left the woods and went to live with his grandmother. He spends a mostly solitary existence and is lonesome for conversation, though he is not aggressive or overbearing, even in talking about the Mustangs he has bred and trained for years.
I could mention many more people I have met throughout the year or the main issues that weigh heavily on my shoulders as I try to figure out how to write about them (Affordable Care Act, Common Core, among others) but I would take up the whole paper with my thoughts.
When people ask what I do, aside from the quick "I'm a reporter," answer, I tell them I listen. Then I help people share their stories, even when they think they may not have anything to reveal. If you listen long enough, there is always a story.
•
By David Rauzi, Editor
Reviewing a year's worth of stories for a recap of the standouts brought to mind several topics and categories that drew our reading attention, and in some cases either our excitement or our anger.
Scam stories are a community newspaper staple; readers are very willing and proactive to share their stories and warn their neighbors. This year upped the challenge for Idaho County residents with scammers using some clever and believable tactics to steal your personal/financial data, such as posing as a law enforcement officer or in seeking information to complete a gift registration for a LifeAlert service. One was just silly: a $7,000 "good citizen award" from the federal government. However, we end our year with the URM Foods data theft fraud that left many through the Inland Northwest and in Idaho County panicky about their credit card security, but fortunately financial and credit institution safeguards were in place, and it taught us to regularly monitor our accounts online as those monthly statements are not a real-time protection.
Violent crime is not largely what we're about here in the county. That being said, the county charged an Elk City woman, Tara Mendenhall, with allegedly beating an acquaintance to death in October; the last murder in the county was in 2011. Several aggravated assaults – from threatening with firearms to a baseball bat beating – were charged, as were an atypical amount of attempted strangulation incidents involving spouses or domestic partners. A rare crime? Robbery. The June gas station robbery with its implied coercion of force by handgun, was the area's first in more than 18 years. A May stabbing incident in Kooskia remains in investigative limbo with the FBI.
Significant news stories of the year included the one-year extension of Secure Rural Schools (SRS) funding, which this year for Idaho County meant $7.6 million. SRS provides payments to rural counties and school districts affected by declines in revenue from timber harvests on federal lands. This annual appropriation lies on the edge of termination, and with that it would leave a gaping hole in the county budget. SRS is a federal concession to western states largely comprised of public lands, but lean budget years are making legislators forgetful of their obligations. 2014 could give the west yet another extension as a divisive, partisan, ineffective Congress will likely avoid the hard work of a permanent, and satisfying, compensation alternative – whether paying market-share or state-managed lands options.
Oversize oil sands equipment shipments along U.S. Highway 12 attempted to push through; one did (with the permitted blessings of a defiant Idaho Transportation Department) until the courts stepped in to force the Forest Service to act on its mandated authority to protect the Wild and Scenic Corridor between Kooskia and the Idaho/Montana border. Now until the USFS and Nez Perce Tribe come to a meeting of the minds on how best to determine the if and how of future shipments, these so-called "megaloads" are shipping through southern Idaho where – in our editorial opinion — only roadkill jackrabbits and Hollywood activists will be in danger from an empty metal cylinder dropping off a slow-moving transport.
More fun with the Forest Service came in wrangling on the impending move of the supervisor's office from Grangeville to Kamiah. The agency came forth promoting the move as the best option in cost-savings and a central location to manage the newly combined enormousness of both the Nez Perce and Clearwater national forests. Activists in Grangeville sought, unsuccessfully, measures to retain the office with reorganization and leasing alternatives, bringing into question the study used to justify the move and the lack of communication and public input into the decision.
2013 started out for many with dollar signs in their eyes as the checks from the estimated $6 million Webb estate began to be distributed to multiple public and private Grangeville entities, including the city, hospital, civic groups and churches, and endowments/scholarships. So far, the Masonic temple has put the money into use with a summer building remodel, and Syringa Hospital has plans for renovation and expansion.
•
By Andrew Ottoson
During 2013, as the Upper Lochsa Land Exchange repeatedly stalled, the proposed land trade between Western Pacific Timber (WPT) and the U.S. Forest Service received support from Idaho's D.C. delegation.
In a joint letter to Forest Service Chief Tom Tidwell, Sen. Jim Risch, Sen. Mike Crapo and Rep. Raul Labrador proclaimed the administrative effort "unlikely to end with a successful exchange" – and suggested the goals that first brought the Forest Service and WPT to the bargaining table back in 2006 "could be embodied in an exchange directed by authorizing legislation."
But as the year came to a close, Nez Perce-Clearwater National Forest officials had not received any new direction from Forest Service Chief Tom Tidwell. Nor had Crapo's office received any response from Tidwell's office, as of Nov. 14. Risch's office did not respond to a Dec. 26 Free Press request for comment.
Despite little discernable progress, the proposed land trade was a lightning rod for letter-writers.
One of those expressing strong opinions was Idaho County Commission chairman James Rockwell, who sent Risch a letter in what he later described as a "terse tone." That letter prompted one from commissioners Skip Brandt and Jim Chmelik, who on Sept. 16 reiterated the commission's support for "a possible legislative solution to the Upper Lochsa Land Exchange."
On Sept. 19, Rockwell wrote to Risch again: "You're crazy to get involved…but I'm aware of your track record, and admire it."
Risch's track record includes a time when, as governor, he pulled together a collaborative that produced a state-drafted "roadless rule," which withstood a court challenge from the Sierra Club and The Wilderness Society. A Jan. 7, 2013, ruling by the federal appellate court upheld the rule, thereby vindicating that process, which, Risch's office noted, had included input from "county commissioners, timber companies, hunters and recreation groups" as well as Idaho Conservation League and Trout Unlimited.
In a letter to land trade opponent and Friends of the Palouse Ranger District organizer Marilyn Beckett, as reported by the Lewiston Tribune Dec. 6, Risch's office named the land exchange's stakeholders as "the people of Idaho, all forest users, Idaho County, the Nez Perce Tribe, USFS and WPT." In the same report, the Tribune quoted Nez Perce-Clearwater National Forest supervisor Rick Brazell indicating these stakeholders had not yet been "pulled together."
Rather, WPT has met with stakeholders individually in preparing to present its case for a trade to the legislators in 2014.
When – or whether – the trade will come to fruition remains as uncertain as at any time since its 2008 conception.