Monday, December 30, 2013
Coal and pennies were hunt gifts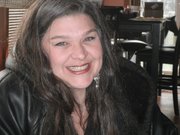 WHITE BIRD — Happy New Year! I hope everyone enjoyed their Christmas and the year 2013. I got a bag of coal and 50 pennies from our Christmas scavenger hunt, which is exactly what I wanted (and deserved). Here's to a new year with less debt, better health, more money, more time, less government, higher hopes and clean slates for us all.
The Christmas program was wonderful. Thank you, Jenny, Jessica and Sunni for volunteering their time to make it possible. Thank you to everyone who donated money, snacks, candy bags and everything else that pulls it all together. We had a small, but fun Christmas parade. The wait in the park gave us all plenty of time to eat some of the best chili ever, drink hot cocoa and catch up with neighbors around the fire.
The Rebekahs had their Christmas party on Dec. 18 with 15 members attending. They enjoyed snacks, a gift exchange and everyone brought some food that was donated to the food bank. They're a good group of women who are always doing something for our community.
All of us at Canyon House would like to say a great big thank you to those of you who did your Christmas shopping at our store. I can't tell you how much we appreciate it. You're the best neighbors and friends we could ask for. Thank you so much!
There was a good ol' jam session last Sunday. Join us again for another one at the Silver Dollar on Jan. 5. It's always a good time.
The cribbage tournament on Dec. 21, brought in 22 players. Jim won first and Nick took second. Join in next Saturday at the Silver Dollar to play.
Happy birthday this week to: Joan Lawty, Dave Willford, Cassie Basler, Amy Wisenor, Brad Minter, James Dumars and Charlotte Hurt.