Monday, December 30, 2013
COTTONWOOD — An upcoming retreat at Spirit Center at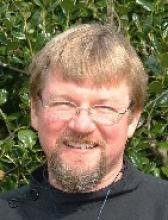 the Monastery of St. Gertrude, set for Feb. 3-7, iconographer Father Damian Higgins will guide retreatants through this particular prayer process.
Father Higgins is an iconographer whose numerous works are featured in churches and collections around the world. He was introduced to iconography in 1988 when he joined the Monks of Mount Tabor, a Ukrainian Catholic religious community at the Holy Transfiguration Monastery in northern California.
The community's iconographer became cantor and suddenly there was a need for someone to paint. Father Higgins later served in a social service agency in the Tenderloin, one of the toughest neighborhoods in San Francisco. It turned out that one of the men to whom he served soup was a master iconographer who also shared his knowledge of the art.
Participants will create an icon of St. Gertrude, the patroness of the Monastery of St. Gertrude. A 13th century writer, teacher and visionary, Gertrude possessed an awareness of God's unconditional love for all creatures and developed an enduring trust in God's mercy.
All materials provided and no artistic experience needed. Suggested donation: $530. To register, visit www.Spirit-Center.org or call 962-2000.