Wednesday, November 6, 2013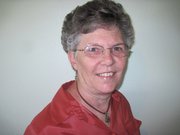 Cottonwood — St. Mary's Hospital is going to be sponsoring adult exercise classes on Monday and Wednesday evenings from 7-8 p.m. at the Cottonwood Community Hall. The first class was held on Monday, Nov. 4. These classes will be geared toward the 40 to 60 year-old-age group, but all ages are welcome to attend. The main goals of these classes are to help increase strength and balance, and also help control weight gain. Both women and men are encouraged to attend. The fee for these classes is only $10 a month. Shelli Schumacher and Cheri Holthaus will facilitate the classes. If you have any questions contact Cheri Holthaus at 962-2327.
Last Saturday our family participated in LCSC's Fall Classic Marathon, Half and 5K. There were 16 of us who ran a combined total of 62.5 miles. I walked while most of the rest of them ran. It was a fun way to celebrate a birthday and get some exercise, too. I even made it to the finish line!
Did you wake up to snow this morning? We did, so I guess I better get the rest of my fall chores done or it will be too late. I have to wrap up my roses yet. If the snow stays, then I don't have to do the rest until spring.
The Ferdinand Parish dinner was very good. Those people do a great job of putting on a meal. Kudos to all who helped with it.
The Cottonwood School District will present a program for veterans on Monday, Nov. 11, at 9:30 a.m. in the Prairie Jr./Sr. High School gym. All veterans and their family members are welcome to attend. There will be a slide show to honor our veterans. During the program all veterans will stand and introduce themselves. Thank you, veterans – for freedom in the U.S.A.! Let's show our vets that we appreciate them and what they did for our country. Without them, we would not be free to live as we want to.
An upcoming retreat at the Spirit Center at Monastery of St. Gertrude is "Losses of Our Lives." Presenter will be Rev. Nancy Copeland-Payton. The suggested donation is $195 single or $150 each for shared. This includes all meals. To register call 962-2000 or visit online: www.Spirit-Center.or