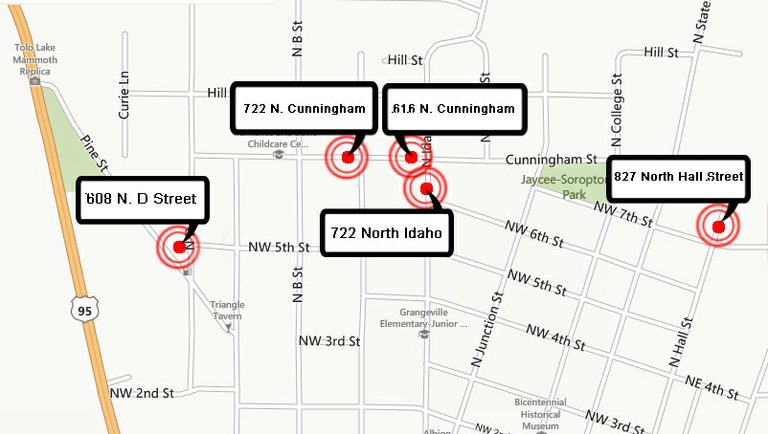 Wednesday, November 6, 2013
Grangeville — Is it a case of vanity gone wild, or is someone nefarious character putting together an unusually large disco ball?
The image isn't clear, and Grangeville law enforcement is left to reflect on the who and why
Have information on this case?
Contact the Grangeville Police Department, 983-1351.
behind a rash of likely related vehicle mirror thefts that occurred one night late last month across the north part of town. At this point there are no suspects, and GPD seeks the public's help for leads on the case.
"In at least one of the instances someone heard strange noises outside their house," said GPD
Chief Morgan Drew. "I would encourage people to call us when they hear noises that don't seem normal so that we can check the area. This will at least give us a heads up that something may be going on and possibly put us in a position to catch a crime such as these in progress."
No similar thefts have been reported recently in the county. Total damage estimates were unavailable, however, so far several hundred dollars was reported.
The thefts were reported starting just after midnight on Wednesday, Oct. 23, according to a GPD report. Robin Thornton noticed the side view mirrors of her Ford passenger car were missing after driving the vehicle away from 827 North Hall where it had been parked for approximately 1.5 hours. Nearly two hours later, Tim Marsala, 722 Cunningham Street, reported mirrors were stolen from his Chevrolet pickup parked in his driveway.
Investigating these instances, GPD Officer Paul Orgish contacted Rick Cochran, 616 Cunningham Street, who had just gotten off work, asking him to check his vehicles for possible mirrors missing. Cochran discovered three of his vehicles – a Dodge and Ford pickups, and a Dodge Caravan – were missing their mirrors. At the scene, four mirrors – not belonging to any of these three vehicles – were found stacked on the Dodge's hood.
At 8:02 a.m., two more vehicle damage incidents were reported on North D Street. Employees at Partsway, 608 North D Street, reported to GPD Officer Wes Walters that two vehicles had been damaged that night: a Ford pickup and a Ford Ranger, both had damaged side mirrors with signs that an attempt had been made to remove one. Stephan Kaschmitter reported his Oldsmobile passenger car had both mirrors removed from their casings.
Two more damaged vehicles were reported at 10:49 a.m. Charles Hazelbaker, 722 North Idaho Street, reported side mirrors were stolen from two vehicles parked in his driveway. He last reported using one of the vehicles at 8:30 p.m. the Tuesday evening prior and didn't notice the mirrors gone then. He did hear noises outside his house around 10:30 p.m. but he hadn't seen anything.
Along with fingerprint evidence, police found fresh blood on two of the vehicles involved in these incidents.