Wednesday, November 6, 2013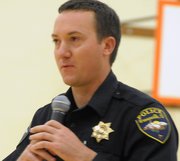 Grangeville — "The main reason I wanted to grow up to be a police officer was that when I grew up in Idaho County I saw a lot of people turn to drugs. Some of those people aren't with us anymore because they let drugs overtake their lives," said Grangeville Police Officer Mike Quintal. "I wanted to do something to try and help."
Quintal has been in law enforcement for 15 years and spent time last Wednesday, Oct. 30, speaking to Grangeville Elementary Middle School students for its Red Ribbon Week assembly.
Quintal talked to students about drug use and asked that each one of them have a plan.
"Because it won't be 'if' you are asked to do drugs someday, it's a matter of 'when,'" Qunital told the students.
Quintal told the students they need to be able to find a reason to say no.
"People often do drugs because they believe it will make them feel better, but I want you to know that you can die the very first use – it happens," he said.
Students spent the week dressing up, making posters and tying red ribbons on the school fence as a reminder to be anti-drug and anti-bully.
"We really just want this to be meaningful to the kids and a reminder to not abuse drugs," said first-year GEMS PTA president Aminta Bruzas. The PTA sponsored all Red Ribbon Week activities.