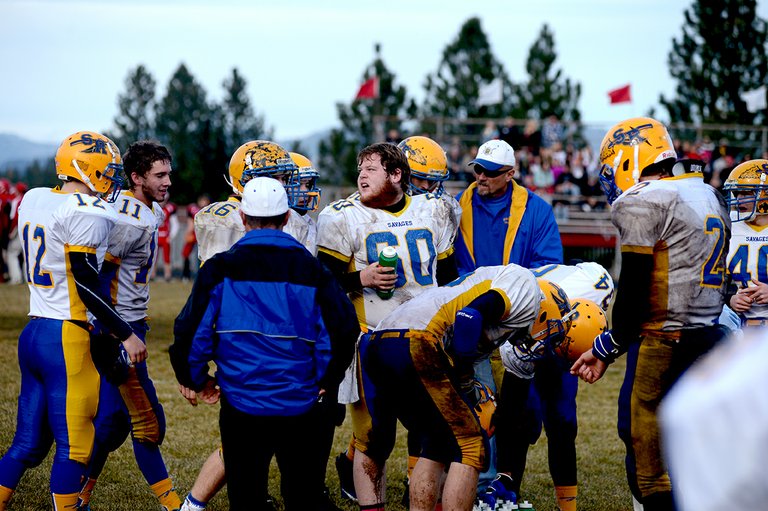 Saturday, November 16, 2013
A couple of big plays during the first half put Salmon River in charge, and the Savages added a 78-yard run by Leighton Vander Esch on the second play of the third quarter. They went on to win 44-0 Saturday; with the win, Salmon River reaches its second consecutive 1AD2 state title game.
Near the end of the first quarter, McCoy Hale opened the scoring on a deep pass from Vander Esch, splitting two defenders to make the catch and escaping from traffic as the defenders wiped each other out. Vander Esch found a rhythm running the ball after that, ripping five straight scores through the heart of the Dietrich rushing defense.
The Savages will play Long Pin Conference familiar Council in the title game, which is set for 5 p.m. (MT) on Nov. 22 at Boise State University. Check out the Nov. 20 print edition for details on this game.
Salmon River 44, Dietrich 0
Saturday, Nov. 16, at Dietrich High School
Savage 8 8 14 14 - 44
Blue Devils 0 0 0 0 - 0
S - McCoy Hale 73-yd pass from Leighton Vander Esch (Vander Esch run)
S - Vander Esch 32-yd run (Vander Esch run)
S - Vander Esch 68-yd run (Jimmy Shepherd run)
S - Vander Esch 33-yd run (run failed)
S - Vander Esch 20-yd run (run failed)
S - Vander Esch 1-yd run (Beau'd Hopkins pass from Vander Esch)