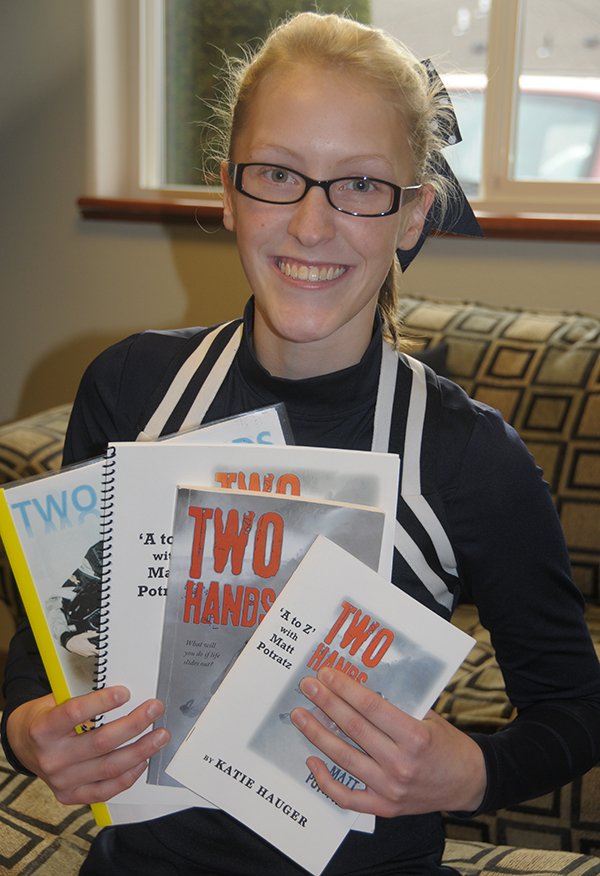 Wednesday, November 20, 2013
Grangeville — What started as a class book report project turned into a published paperback for Grangeville High School senior Katie Hauger.
Hauger had read professional Idaho snowmobiler Matt Potratz's book "Two Hands" which chronicled his devastating accident when an avalanche changed his life and left him with a broken neck and permanent disability.
"I also had the chance to meet him and I decided to do my book project on his book," Hauger said.
Hauger spent hours and hours on the project.
"My dad kept saying, 'you're spending too much time on that!'" Hauger recalled.
However, since she had the chance to meet Potratz and hear his story personally, she said she wanted what she did to be "perfect."
"Matt is a very inspirational man as well as a Godly man and if I was going to do this I wanted it to be good, good enough for him to have a copy," she said.
When Hauger was finished with her "A to Z with Matt Potratz" booklet she sent him a copy. He liked it. A lot. So much so, he asked if he could publish it.
"We did some editing and now it's a book," she said, showing the printed copy. "I'm still pretty amazed."
Hauger has been selling the book for $10 and Potratz takes it with him on his motivational speaking circuit.
But that's not where the book story ends.
Hauger, who was diagnosed with cystic fibrosis when she was 6 years old, is donating all proceeds — $8 from every book sold – to the CF Foundation.
Hauger plans to attend Lewis-Clark State College following graduation next year but is undecided about what she will go into.
"I really enjoy photography, interior design and architecture," she said, "but I am also interested in criminal justice, so I'm not sure yet."
And about what her dad said about spending too much time on the book project?
"When it was published, I said, 'well Dad, what do you think now?'" Hauger smiled. "He said, 'you did good.'"
Hauger, 17, is the daughter of Mike and Kristin Hauger and is big sister to Marie, 13, and Kevin, 3. To purchase a book call her at 507-7888.