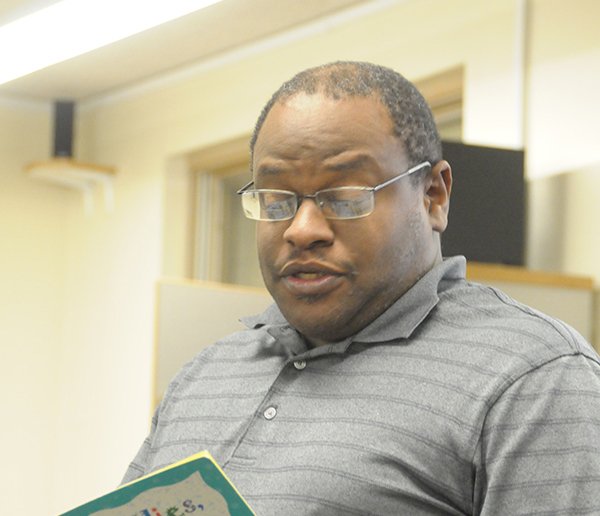 Wednesday, November 27, 2013
Grangeville — "I enjoy poetry – the sheer magic and music of the spoken word," said author Michael Strickland.
Strickland spoke to about 25 people at the Family Art and Literary Night event at Grangeville Elementary Middle School Thursday, Nov. 21. The event was sponsored by the Grangeville Centennial Library with funding from Grangeville Arts.
Strickland, who lives in Nampa, teaches literacy education at Boise State University. He is the author of several books and poems for adults and children.
"We immerse ourselves in words," Strickland said. "Remember that all great writers are avid readers."
Strickland said his love of literature came from his mother, Dorothy Strickland, who is professor emeritus of Rutgers. She also taught at Colombia University. The Strickland family grew up in Orange, New Jersey, about half an hour from Manhattan.
Strickland drove home the point that many things can be taken from a person, but "what's up here, in your head, and here in your heart," he pointed, "can never be taken away." He recited several poems and asked the audience to participate in finger-snapping, hand-clapping and call-back methods to increase audience participation.
Strickland read his children's book "Haircuts at Sleepy Sam's," which he called "semi-autobiographical."
"I love how I am able to share parts of my past through stories and it connects my life past, present and future," he said.
Strickland talked about his websites and how he uses technology for his research and enjoyment, but admitted to him there is "nothing like a real book."
"The Internet is great and very helpful," he said. "But there just isn't anything like touching the paper pages of a book – and I don't believe that will ever go away."
To learn more about Strickland, log onto www.michaelstrickland.com or http://youngpeoplespavilion.com.