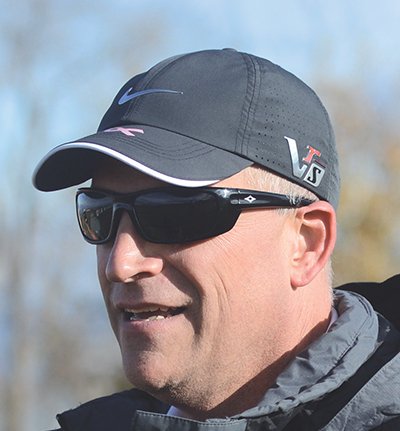 Wednesday, November 27, 2013
John Ruzicka, a Grangeville High School alum, was in town last week for a movie and a Friday morning walkthrough with the Capital High School football team. Ruzicka, after graduating at GHS in 1984, went on to become principal at Capital, where he has seen some of the state's best athletes and brightest minds go on to college.
"I was fortunate and blessed to be raised here."

— John Ruzicka

GHS grad; Centennial High School principal
Ruzicka attended Western Montana for a semester before transferring to Boise State University, where he graduated in 1989. In 1991 he married Michelle, who graduated from Capital High and BSU. They've since had two children, Reece (a Capital senior) and Adam (a seventh grader).
Ruzicka turned his math degree into a teaching and coaching job, then became assistant principal at Centennial High School, then became principal at Capital in 2002.
"We anticipate this will be our fifth straight year ranked in the top 6 percent of American high schools," Ruzicka said. "We have a really strong advanced placement program."
That's according to rankings of the nation's top 2,000 high schools by Newsweek magazine and the Washington Post. Capital had six national merit finalists last year among 1,450 enrolled 10th-12th graders, he said, and the star students include a girl two years ago who went to Columbia for a medical doctorate on a Gates Millenium Scholarship – perhaps the most prestigious in the country.
The school's football team also recently completed a "decade of dominance" with a 33-0 run against its common foes. Capital has sent numerous athletes on to college, including a starting offensive lineman at the University of Idaho.
But as good as things have gone for Ruzicka in Boise, he holds his upbringing in Grangeville in high esteem and credits family and friends.
"I was fortunate and blessed to be raised here," he said. "You don't realize it until you get close to 50 what it was to grow up here."
The Ruzickas make the trip every year for Border Days, he said, and this year's will be a special one as it is set to double as his class's 30th reunion.
"I've got some stories about really good times, but I probably shouldn't tell those," Ruzicka said.
He remains in close contact with many '84 grads – a total of 92 graduated in the class, he said – including GHS head football coach Jeff Lindsley.
Ruzicka had arranged a private screening of Thor for the CHS football team while they were en route to a playoff game at Coeur d'Alene; while waiting for the Capital busses to pull up to the Blue Fox Theatre Thursday night, Nov. 14, Ruzicka was surprised to see one of his buddies had sneaked a few old photos of him in among the pre-show advertisements.
"It was good to be me," Ruzicka said. "It still is."