Wednesday, October 30, 2013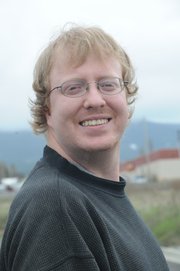 A three-way tie for first place in the football picks contest this week broke in favor of Dave Hohman, who claimed first a week after placing second, and Brian Lorentz got second after winning the top prize a week ago. (Congratulations, guys! Your prizes are ready to be picked up at the Free Press office.)
---
Around the office, we had a five-way tie for first place, and an order from the boss-man to dial up the difficulty. Brace yourselves.
---
Last week's results: Kamiah beat Lapwai, Hagerman beat Butte County, Grangeville beat Gooding, Troy beat Prairie and Salmon River beat Tri-Valley in the high school games.
In the college games, Ohio State beat Penn State, Houston beat Rutgers, UTSA beat UAB and Oklahoma beat Texas Tech.
In the NFL games, Kansas City held off Cleveland, New England rallied past Miami and Arizona flat-out crushed Atlanta.
---
In this week's high school games, give me Prairie, Clearwater Valley, Wood River, Jerome and Grangeville. I'll go with Florida State, Georgia, Dordt and Sam Houston State in the college games.
In the NFL games, put me down for Indianapolis, Seattle and New Orleans. (The entry form is on 5A.)
---
I took some guff (rightly!) from my buddy Ryan for picking the Rams during the Seattle-St. Louis pre-game show, but it had to be said: the Seahawks have not played well on the road, and have not showed much skill for protecting their prized passer — who would probably have been torqued into a pretzel by now if it weren't for his famous mobility. But one man does not make a team — not a pirouetting quarterback with a cannon for an arm like Russell Wilson, nor a blue-chip tackle prospect like the one Grangeville ran into during this week's game against Gooding.
Everywhere he looks, Senators behomoth Cole McGinnis probably sees someone giving him his due. He certainly would have heard his praises had he tuned in for KORT's pregame show. I'll be marking his name down as one to watch, whichever NCAA Division I school he attends.
But the Bulldogs were hardly over-awed by his presence. They decided to run right at him, GHS coach Jeff Lindsley told me, because the coaches wanted to try something different than every other team Gooding had seen.
Most tried to run the other direction, and Grangeville met limited success with its ground attack — but pitting 160-pounders against a giant is just another example of ways football is the ultimate team game.
---
Thanks to Margaret Robinson for sending in the hunter success photo below. If you have a big game or big fish photo you'd like to share, e-mail us, give us a call or come by the office.
We're also looking to write up all the stories readers care to share.