Wednesday, October 30, 2013
Is your candidate pro-business? A better question to ask is whether he or she is pro-labor.
The Idaho Association of Commerce & Industry (IACA) is pushing this week prior to next Tuesday's, Nov. 5, elections that voters consider candidates with strong business backgrounds.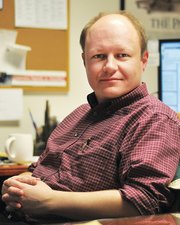 Vocal minorities in the political parties, according to IACA, can lead to agendas that are anti-business and bad for Idaho citizens if they go unchallenged.
Despite the pessimism, Idaho's voters aren't stupid; they recognize the radical monkey wrenchers and in most instances give them a wide berth at the ballot box. And, quite frankly, pushing the "support pro-business" vote is rather insulting.
Why?
Don't insult voter intelligence to remind them where their paychecks originate from. Voters happen to also be laborers who for the past several years have been sucking it up through a national recession that has left them in worse positions than when it started. Labor has cinched the belt and smiled through gritted teeth to work with business in stagnated wages and diminished benefits, eroded investments and savings.
Labor trudges on as there are mouths to feed and bills to pay at home. All the while it seethes at a federal government with no apparent sense of fiscal responsibility, and at a capitalist system that has been co-opted to more and more reward and shield the wealthy and powerful from their greedy misappropriations and outright grand theft. Top executives – rewarded for their criminal malfeasance — take the golden parachute to safety between the ruins of raided pension and retirement funds.
Don't you dare to condescendingly preach like some patronizing demagogue the doctrine of pro-business to Idaho voters who eat, sleep and time-clock that value every day; to those who worry, fret, scrimp and pray that their families may be provided for in the midst of such national indifference and shortsightedness.
Wanna preach? Speak to federal fiscal responsibility, to costs of living (gas, food, medical expenses) unduly influenced by political favors and special interest tampering, to unfunded mandates that crush an already overloaded low-income population.
Let's support labor for a change.
— David Rauzi drauzi@idahocountyfreepress.com for the editorial board