Wednesday, October 30, 2013
Cottonwood — The Brats and Brew Fest was a great success again this year due to the support of the businesses and the people who attended. Winners for the food competition were: Joe Kuther and Ralph Stubbers with their country sausage, Rhonda Schmidt with Clarice's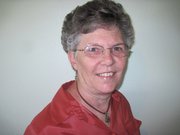 sauerkraut soup, Amy Rose and her beer bread, and Julie Arnzen with her apple cake with butter sauce. All entries were very yummy and it was a hard choice to make.
Assumption Parish dinner, bazaar and raffle is scheduled for Nov. 3 at the Assumption Parish Hall. Mark your calendar! This is a tasty beef and turkey dinner with all the trimmings! Tom and Millie Wimer are the co-chairs for the dinner this year. If you can lend a helping hand, contact them at 962-5197.
The last talk of the Fall Lecture Series will be on Oct. 31. State Historian Keith Petersen will give a presentation called "Inventing Idaho." In commemoration of this year's territorial sesquicentennial, the presentation looks back at critical decisions made in the early territorial period that impact Idahoans every day. The programs during the last five weeks were made possible by funding from the Idaho Humanities Council.
The Cottonwood School District will present a program for veterans on Monday, Nov. 11, at 9:30 a.m. in the Prairie Jr./Sr. High School gym. All veterans and their family members are welcome to attend. There will be a slide show to honor our veterans. If you have not already done so, send or e-mail a picture of a family member or friend who is a vet. During the program all veterans will stand and introduce themselves. Thank you, veterans – for freedom in the U.S.A.!
Troop #3785 Girl Scouts will be having a toy drive during the next few weeks. This is in conjunction with Red Ribbon Week which ends on Oct. 31. Boxes will be placed at Cottonwood Foods and Riener's Grocery. All donated toys will go to local law enforcement agencies to be given out to children whose families are impacted by drug-related issues. This toy drive is one of the requirements the Girl Scouts are doing to earn a badge from the Drug Enforcement Administration. Any question, contact Heather Lightfield at 816-1452 or Shari Chaffee at 962-3559. Thank you in advance for your support of this project.
Congratulations to Dog Bark Park for the winning entry in the Cottonwood Chamber of Commerce's business scarecrow display contest. Judging was done by the most "likes" on the Chamber's Facebook page. Harmon Agency took second place in the contest. Good job, both of you!
It's weaning time for many of the spring calves, so it is pretty noisy around here. This is a sure sign that summer is over and fall is here. Aren't the trees prettier than usual this year? I guess it's because the whole tree turned color at once. Another sign of fall is the time change on Saturday night, Nov. 2. If you don't change it you will have an extra hour to pray before church services start Sunday morning. I guess that wouldn't hurt any of us either!