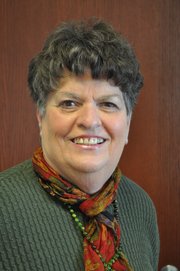 KOOSKIA/KAMIAH — Mark this on your calendar, the Kamiah Masonic Lodge, located at 709 Main Street, Kamiah, is once again hosting a free Easter breakfast on Saturday, April 19, from 7-10 a.m. Join your friends at the lodge to enjoy a delicious free breakfast of pancakes, scrambled eggs, sausage, coffee and juice. Donations are gratefully accepted which will help them to continue their good work. Contact Greg Johnson, 935-0840, for information.
Summer is on the way, and the Farmers' Market starts on April 27, at Long Camp RV from 9 a.m. until 1 p.m. Chris and Connie offer free vendor space as a community service to anyone who wants to sell. Start getting ready, it is just a couple of weeks away. This event has grown through the years and continues to be a huge success for our community and surrounding area. People come from all around the country, whether camping, or just driving by, meeting old friends and making new ones. The Long Camp RV Park is located at M.P. 68, Highway 12, one mile east of the Kamiah Bridge. For information, call Connie or Chris, 935-7922.
RRVFD sets annual meeting for Friday
BIG CEDAR — Ridge Runner Fire Department will be having their annual meeting on Friday, April 12, at the Big Cedar schoolhouse, at 7 p.m. They will address bylaw changes, and the annual election of the board of directors. This is a great way to meet your neighbors if you are new to the area, re-acquaint with old friends if you're not, and meet the department volunteers.
Potluck desserts will be served during the meeting. So, bring a dessert to share, and we will see you there. Call Paul Anderberg at 926-7008 for information.
Friends of the Kooskia Community Library is presenting, "Rugged As The Terrain" by Priscilla Wegars on Saturday, April 12, at 1 p.m. at the Kooskia Community Library. This presentation explores some intriguing Idaho history that took place at Canyon Creek on the Lochsa River, from 1933-43. Priscilla's program begins with colorful insights into the lives of the young men of the Civilian Conservation Corps in 1933, moves on to the road building efforts of the Federal Prisoners of Camp No.11, along Highway 12 in 1935 and ends with a description of life at the camp for the World War II Japanese, German and Italian internees in 1943. The presentation is sponsored by the Idaho Humanities Council. The area libraries are working very hard to bring educational, informative and enjoyable programs for us to attend. Come, bring the entire family to let the library know how much you appreciate their efforts. The Library will have programs and presentations throughout the year.
The softball games last year in Kooskia at the park, were tremendous.
Well, they are back! If you are a good-natured local resident, who shares a love for baseball and good sports, you are invited to participate in the games. The recreational co-ed games will be held on Tuesday and Thursday from 6-7:30 p.m. in the Kooskia City Park. Practice begins on Tuesday, April 16 , at 6 p.m. and continues through Labor Day. Come, enjoy the fun whether you play or watch. Call Ruth Mohr at 926-7230 for information.
On April 18, there will be available a developmental screening of your children between 3 and 5 p.m. to provide you with information regarding the physical and cognitive development of your child.
Information is power. This information will help you to address problems and possible solutions to problems. It is free and this info will surely help your child. Call Kamiah Elementary School at 935-4012 for children 3 to 5-years-old; or Lewis-Clark Head Start at 935-2811 if your child is from birth to 3. What's Happening: Kamiah Senior Center serves meals on Monday, Wednesday and Friday, starting at noon. They have music on Monday and Friday at 11 a.m. Schedule a mammogram at the Kamiah Clinic, 935-2585. Mammograms are by appointment and are done the second Wednesday of each month. In Kooskia Recycle on Thursday from 3:30-5 p.m., or Saturday from 10 a.m. until noon at the Recycle Center just across the bridge near where the old pole yard was. Be sure to separate items. The Indoor Farmers' Market in Kamiah at the Mini Mall, 411 Main Street, which has My Health Food Store, Creative Spirit Gifts and Dreamweavers Salon, is open every Friday from 10 a.m. until 2 p.m. Beginning to have bedding plants available and baked goods. Public is welcome, and everyone is invited to sell their fruits, baked goods, vegetables and plants. Call My Health Food Store at 935-2310 to sign up for a space or get information. Kamiah Presbyterian Church will have their weekly free soup lunch, 11 a.m. until 1 p.m. on Thursday. Tahoe QRU will have their weekly "donut break" at their building on Leitch Creek Road from 9 a.m. until noon. Public invited to stop, talk, and meet the crew, your neighbors, and enjoy the games as well as be entertained by several of the area local musicians. Bring your cribbage and chess boards and come on down. Kamiah VFW will host their semi-monthly bingo on Friday, April 12, at 6 p.m. at their building located next door to Loving Hands Resale in Kamiah.
There will be many Easter egg hunts soon. I will let you know some next week, but check with your church, or one near you, organizations of which you are a member, or the Chamber of Commerce to find out the one closest to you. If you know or make news, give me a call.