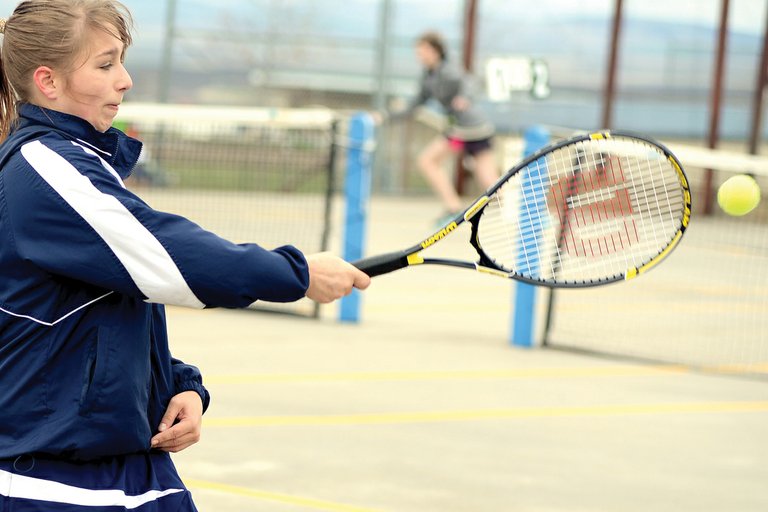 GRANGEVILLE — With Moscow's JV in town last Saturday, April 5, the Grangeville varsity cruised. The matches were more competitive in two meetings earlier in the week against Clearwater Valley, whose No. 1 girls doubles team (Adrianne Nuxoll and Shalynn Gutzman) twice got the better of Jenni Forsmann and Yowzer Rockwell.
But just barely.
During the Bulldogs' Thursday, April 3, visit to Kooskia, Grangeville dominated the boys singles with Wyatt Thanstrom, Fernando Reigosa and Garrett Kennedy dropping a total of seven games (winning 24) in their three matches.
That pattern held to what was set at GHS earlier in the week, on April 1, when the Grangeville boys and CV girls outperformed their counterparts. Grangeville won eight of 13 matches on its home court, splitting the mixed doubles. In girls doubles, "in the best match of the night, the CV girls [Nuxoll and Gutzman] defeated Grangeville Jenni Forsmann and Yowzer Rockwell 6-8 in a back-and-forth match that could have gone either way," GHS coach Kerry McCulley said.
Nuxoll and Gutzman won the Thursday rematch 8-1.
Against the Moscow JV, Grangeville won every match, in part thanks to comeback wins by Lily Willig/Savannah Thanstrom and Rachel Kelley/Maicee Conner in girls doubles.
Coming — Grangeville and CV open league play in Lewiston at 9 a.m. Saturday); both will play there at 4 p.m., April 10. Also in the league are Clark Fork, Coeur d' Alene Charter, and Deary.