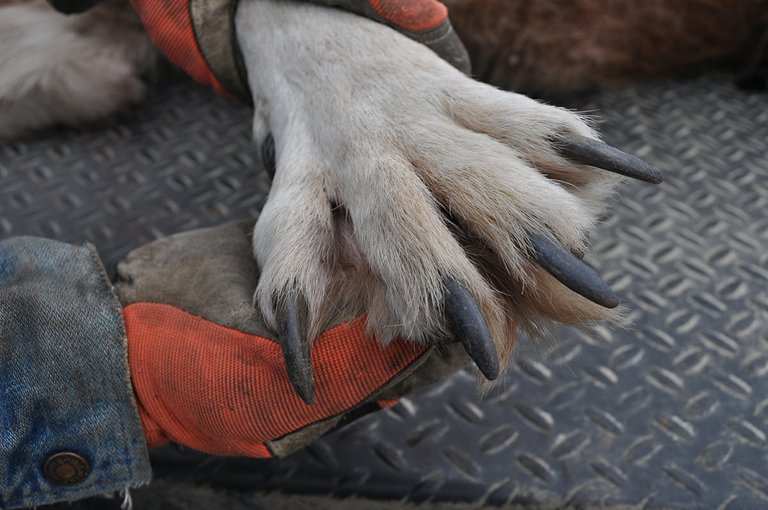 Last year, for the first time since their establishment in Idaho during the mid-1990s, the number of wolf packs documented in the state declined from the prior year count. Despite documenting nine new packs, per official numbers released last Friday, April 4, the pack count dipped 16.4 percent from the 2012 year-end count of 128. The reduction was brought about mainly through a combination of sport harvest and agency control actions, which together took out 450 wolves last year. Even after estimating 659 wolves still lived in the state at the end of last year, the Idaho Department of Fish and Game marked a fifth consecutive year-on-year decrease in the apex predator's population.
The annual report held mixed results for stockmen, who saw wolf depredation of cattle dip to the lowest total since 2006, but also saw wolves take more domestic sheep than any year since 2009 on account of 176 sheep taken in a single incident last summer near Victor. The report confirms four cattle were taken by wolves in Idaho County last year. The livestock industry's answer to predation was enshrined in law earlier this year with the formation of a new $400,000 wolf control board tasked primarily with killing problem wolves.
Sportsmen, whose stake in wolf control follows from "precipitous declines in elk numbers" documented in elk management plans, have played a big part in stabilizing and reversing wolf population growth since 2008, when the federal ban on wolf hunting and trapping gave way to state-based management. The 2013 annual report, prepared by the Idaho Department of Fish and Game and the Nez Perce Tribe, documented 473 wolf deaths of which 356 (75 percent) were legally taken by hunters and trappers – marking the fourth consecutive year the sportsman's share of the wolf boom has increased.
In January, IDFG laid out a 10-year plan calling for predator removal and habitat improvements to counter elk population declines in backcountry areas. In the Lolo Zone, elk planners found wolf predation to be the leading cause of cow elk mortality in an area where cow elk survival has slipped below a threshold that implies herds will continue to shrink for as long as the status quo persists.
Based on five states' counts, federal wildlife managers declared at least 1,691 wolves lived in the region at the end of last year. But how did the states arrive at a number so precisely shy of 1,700?
From 1996 to 2005, Idaho tried counting every wolf, using radio collars to track what was then a relatively small population. Recognizing how much the wolf population had grown, in 2006 game managers began estimating the total based on exact counts of a portion of the whole population. Managers would count the number of packs, and would count the exact number of wolves in some packs. Last year, a total of 107 packs were documented; 21 of those packs (totaling 113 wolves) were counted completely and directly. That count establishes an estimate of 5.4 wolves per pack, which implies 464 wolves run in the other 86 packs documented in Idaho. Wardens also counted nine wolves running in groups of two or three. An eighth of all wolves are thought to be lone wolves, implying 73 lone wolves run in Idaho. Together that total, nearly 40 percent of the region-wide count, makes up Idaho's official wolf population of 659. The other states used similar methods for their estimates, which add up to the region-wide official total of about 1,700.
The method underestimates the actual number of wolves in Idaho, but when new information comes to light, the estimates are updated. For example, when wildlife managers last year learned of seven packs that existed in 2012, the 2012 total count (683) was bumped up to 722. The annual report provides no estimate of how many undocumented packs may exist, so Idaho's official estimates establish no upper limit on the number of wolves in the state.
According to the Spokesman-Review, Montana uses the same method to establish a minimum, but since 2007 has also used a separate method to estimate the total number of wolves in that state. The separate method, which figures wolf numbers based on land areas and pack territory sizes, "generally estimates a Montana wolf population 25-35 percent higher than the verified minimum counts."
Locally, packs have been documented in the vicinities of: Seven Devils (west of Riggins); White Bird Creek, Florence, Newsome, Earthquake Basin and Pilot Rock (south, southeast and east of Grangeville); Red River, O'Hara Point and Bat Rock (near Elk City), Tahoe, Spirit Ridge, Coolwater Ridge, Middle Butte, Eagle Mountain and Battle Ridge (east of Kooskia).