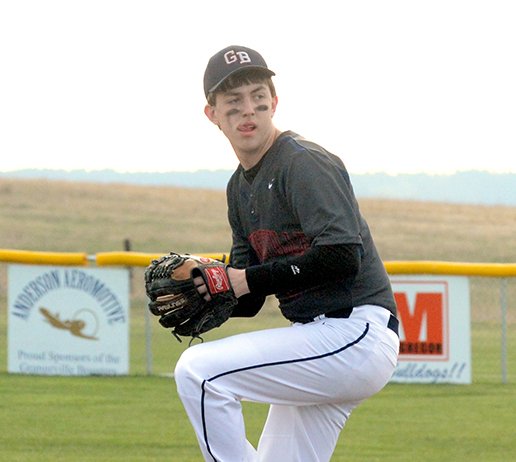 Wednesday, April 16, 2014
GRANGEVILLE — Having combined to throw more than 200 pitches in a sweep of their April 8 league games against St. Maries, Grangeville aces Jasper Sabatino and Alex Koberstein were in the field for home games against Kendrick and Asotin while resting their arms for a trip to Orofino (which was played after the print deadline on Tuesday). Shane Wood turned in a strong start in a 12-1 Bulldogs win over Kendrick on April 10 and again gave the Bulldogs a chance to win last Saturday, April 12, against St. Maries.
Playing their third game in three days — having locked up the season series against the Lumberjacks with a 5-2, 2-1 sweep of the April 8 doubleheader — the Bulldogs stranded 10 runners in a 4-2 loss.
Against Kendrick, Grangeville capitalized on walks and errors. In a 12-1 loss to Asotin Friday, the Bulldogs allowed a similar abundance of free bases.
Up next, Grangeville has games at 5 p.m. Thursday, April 17, against Genesee at Lewiston's Clearwater Park and at noon Saturday, April 19, against Pomeroy at GHS.
Sweeping St. Maries put Grangeville atop the Central Idaho League leading up to the April 15 set at Orofino.
Prairie whiffs at Glenns Ferry tournament
GLENNS FERRY — Prairie scored 11 runs against strong competition at the Glenns Ferry Tournament last weekend, April 11-12, but came away with three losses: 13-6 to Wells, Nev.; 10-1 to Malad; and 9-4 to Soda Springs. The Pirates hosted Clearwater Valley after the print edition deadline Tuesday. Up next, Prairie was scheduled to play Highland at Culdesac on Thursday, April 17, followed by a doubleheader Saturday at Timberline starting at 11 a.m.
Potlatch sweeps Kamiah
POTLATCH — The Kubs committed 13 errors in 11 innings behind pitchers Branson Ballantyne and Chris Olive as Potlatch powered past the Kubs 11-0 and 18-6 last Saturday, April 12. Kamiah played Nezperce after the print edition deadline. Up next, Kamiah plays at Clearwater Valley at 4 p.m. Thursday, followed by an April 22 visit to Timberline.