Wednesday, April 23, 2014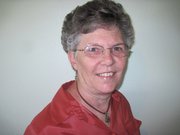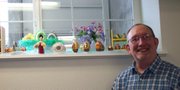 Citywide yard sale is May 17
COTTONWOOD — Cottonwood citywide yard sale is May 17 and the Tri-Parish is on the map to have a yard sale in St. Mary's Church parking lot. We are clearing out miscellaneous furniture, doors, etc. from the rectory and will be selling them in the yard sale. Proceeds will go to benefit the construction of new front steps for the office and fixing up the basement for a youth room. We would like someone to volunteer to be the chairperson in charge of the yard sale; call the office and volunteer. Also, if you have items you would like to donate, contact the office, 962-3214. Thank you.
 COTTONWOOD — Dr. Sam Couch is sharing his Ukrainian egg collection with the library for the Easter season. In the Ukrainian Catholic heritage, pysanky are decorated eggs with symbols representing new life associated with spring, resurrection and Easter. He also included a few of his sugar egg collection. Some of the eggs are grouped together with a particular theme. Even the colors have a certain meaning. 
Dr. Couch's first teaching job was at Dickinson State University in North Dakota where there is a large Ukrainian Catholic population. Because he is a cultural geographer, Dr. Couch served as the university's liaison with the local Ukrainian Catholic population. Local women gather between Christmas and Easter to pass on pysanky egg decorating traditions. At that time, Sam began collecting these remarkable symbolic eggs as gifts for family members.
Dr. Couch says, "I have the best neighbors in the world, and I love living in this area." We are grateful to Dr. Couch for sharing this bit of culture with us. Most of us would never get to see something like this. 
Since retiring, Dr. Couch continues leading tours to rural Ireland and Scotland. He leads small groups of eight people who stay in farmhouses. For information you may go to www.risingroadtours.com  or call him at 962-9886. 
Holy Week services in the Tri-Parish area were very moving and inspirational.  Soloists, Maurus Uhlorn, Sally Rehder and Elizabeth Nuxoll, added the touch that gave everyone something to remember. The decorators made the churches beautiful. 
Happy birthday to Elred Nuxoll who turned 80 this month.  We enjoy all your stories, Elred!
Mega kudos to the Cottonwood Boy Scouts who have been planting pinwheels in the shape of a heart at  St. Mary's Hospital for the Pinweels for Prevention of Child Abuse Program. It looks great.
Prairie did well at the North Idaho Sports Banquet at Coeur d'Alene recently. Jake Bruner was named 1A-2A-3A boys basketball player of the year. Kyndahl Ulmer was named 1A-2A-3A girls basketball player of the year. Lori Mader was named 1A-2A-3A girls sports coach of the year. Prairie boys basketball team was named 1A-2A-3A boys team of the year. Wow! What a year for the Prairie School.
Kellie Bruner was named Mother of the Year by the Prairie League at the recent mother-daughter tea with an essay submitted by her daughter, Beka, who wrote, "Mama knows best!" Isn't that so true? 
This is the last week to reserve tickets for the Center For Discovery Family Luau. The luau will be held on Saturday, May 3, at 6:30 p.m. at the Cottonwood Community Hall. The cost for this fund-raiser will be $45 per couple; kids, seventh through 12th grade, $10; and kids, sixth grade and under, will be free. Dinner will be pork, twice baked potatoes, Caesar salad, broccoli and cauliflower salad, applesauce, dinner rolls and dessert. We will be having auctions, crafts and family pictures along with a dance. If you cannot make it to the dinner, but would like to come to the dance, your entire family is welcome for just $10. Come out and support the Center for Discovery in this first-time fund-raiser. The community of Cottonwood would be lost without it. If you would like to reserve tickets or if you have any questions contact the Center at 962-7080, Erin Shears at 816-0202, shears@sd242.org, or Tara Rowland at 962-7071, tararowland@idahovandals.com.