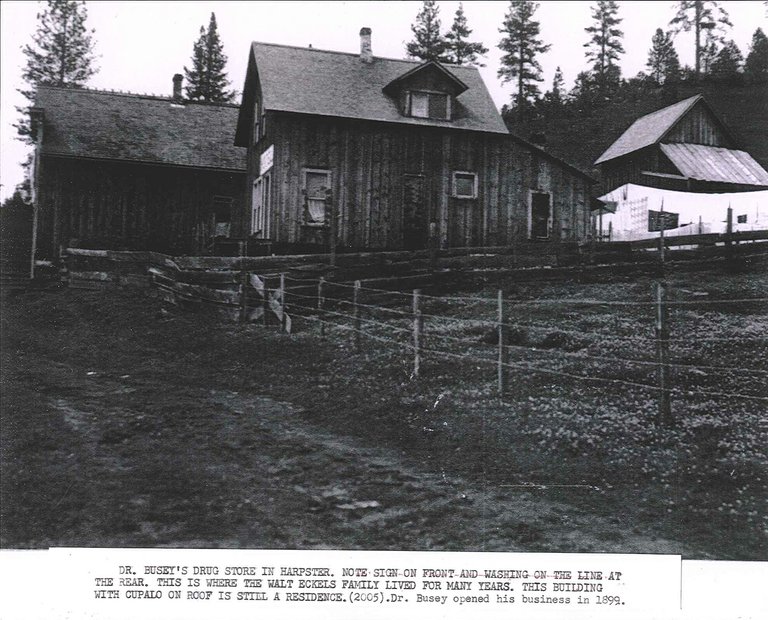 Wednesday, April 23, 2014
HARPSTER — An 1890s home with a lot of history recently got a facelift – but it has retained its original style.
"I wanted to maintain the historical look of the home while updating and repairing everything," said Jim Moody of All-Around Realty in Grangeville. He and wife, Susan, own the home and have worked with a friend to prepare it to sell.
The home was built in the mid-to-late 1890s and Dr. Charles Busey operated a drug- store there, opening the doors in 1899.
Though little information is available on Dr. Busey, information written by Carl Weholt states Dr. Busey made calls on horseback.
"Everyone always called it Dr. Busey's Drug Store, though it was many years gone by the time I was there," said Eldene Wasem who grew up in the Harpster area. At one time the town boasted a school, four saloons, two grocery stores, a blacksmith shop, a harness business, a livery and a hotel.
The home, located in town on the South Fork of the Clearwater River, has a rock and mortar foundation that has stood the test of time, Moody said.
Mel and Ruby Parks have been inhabiting the house for the past year – which was purchased by Moody in September 2012.
"I recognized the potential and Mel, a good friend of mine, has been instrumental in helping get it fixed up," Moody said. "He was surprised to see how well it was built; it's just as level as can be and sturdy."
The Walt Eckels family lived on the property for years and Vienna Rape and Shorty York were also occupants.
The home has tragedy attached to it, as well: On Jan. 16, 2006, Rockie Ivie, 50, shot her husband, David Ivie, 45, while he slept. She was charged with his murder and deemed not competent to stand trial based on a mental evaluation. She is currently incarcerated at a southern Idaho mental health facility.
"No, it's not haunted," grinned Moody. "That's why I put Mel and Ruby in there first — just in case!"
Moody said he saw the potential in the home and was willing to work to preserve the history and make it a place of value.
He and Mel tore out and replaced floors, took off old siding and placed moisture barrier (Tyvek) under new bat and board tamarack siding and hauled tons of garbage and waste off the property. They put in new windows, a bathroom and wood stove and Moody also dug a French drain to draw water away from the foundation. A wheelchair ramp was added, and the entire property – including a shop and outbuilding — has been sided and painted. The home is now heavily insulated to make it energy efficient with a new electric panel and wiring.
"There is a beautiful view of the river and what was once Jackson Bridge from the deck and there's wildlife all over – deer, turkey, and great fishing," Moody added. His wife Susan's uncle, Glenn Chandler, put new cabinets in the house as well.
"I felt like it was important to keep the home as original as possible for the sake of history in the community," Moody said. "We think it should now last another 100 years, and will make some lucky person a beautiful home."
The home is now on the market. For questions call Moody at 869-9582, 983-7878, or e-mail jimmoody@connectwireless.us.