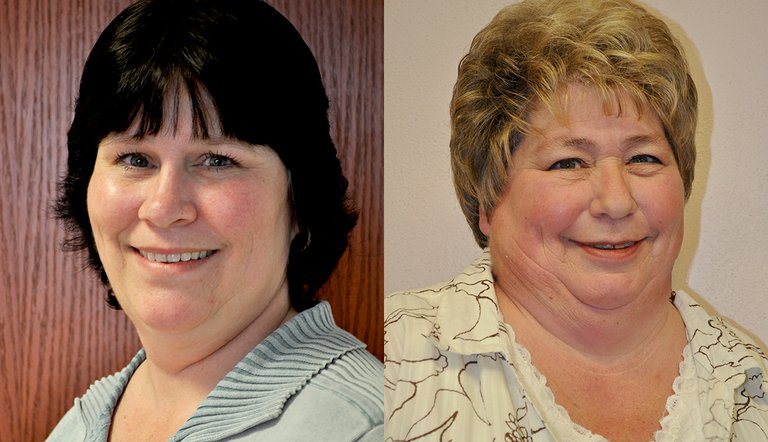 Wednesday, April 23, 2014
Experience, love for service key for Hall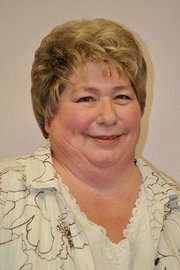 GRANGEVILLE – Incumbent Idaho County Treasurer Deanna Hall has been nearly a year and a half on the job, and she is looking forward to continuing this public service position.
"I just love this job," she said. "It's very involved, but it's rewarding when you can help people, when they come in upset and you can make them leave happy."
In the race for Idaho County Treasurer, a four-year term, Hall will face fellow Grangeville resident Abbie Hudson in the May 20 Republican primary election. The victor in this race will face off against Democrat Michelle Perdue of Grangeville in the Nov. 4 general election.
Hall, 58, was appointed to the treasurer's position in November 2012 following the resignation of Sharon Cox, who served in the post for 17 years. She oversees a chief deputy and a 30-hour employee, along with sharing a third of employees in the assessor's and auditor's departments. Her department's job is straightforward data collection, computation, entry and overall management, she says: figuring tax levies for the county and its departments, sending out tax notices and collecting taxes, managing county investments, and making sure the books balance every month.
"We've got a great crew in here – personable, happy. People will be greeted with a smile when they come in," Hall said. "We treat everyone the way we would want to be treated. We'll take care of their problem, and hopefully they'll leave here happy."
Hall noted her bookkeeping and management background as good preparation for the treasurer's position: working for several private businesses, including Hall Oil Company, Star Motor Freight, JC Penney, and her husband's trucking business. Hall started working for Idaho County with the assessor's office in 1999, starting in the motor vehicle department (conducting registration and title transfers) and later to handling property transfers and splits, and Circuit Breaker issues. Her courses in basic mapping and appraisal, she said, have provided experience that has "really helped me" in the position and better assisting the public.
"It's been a learning process," Hall said, especially when 35 years total experience went out the door with the departure of Cox and her chief deputy. "It was a whole new crew and we've learned this together. We've made a few mistakes and fixed them, and we've worked with the state and met our goals."
Conveying information and providing understanding about the tax process are important in the treasurer's position, according to Hall, "and there's a lot here you have to know to do that."
The tax is set by the levy, "but when people come in, we can help them understand their taxes," she said, such as why their tax changed through a levy or a property reappraisal, assisting them in mapping to see where their property is in relation to area taxing districts, and looking up deed information.
Hall said she is very happy with how the treasurer's office has operated under her tenure, knowing that there are "still some hills to get over…. And if there are any problems I want to hear about it. I can't fix what I don't know about." Not every problem may have a satisfactory answer, and some may have no answer at all, according to Hall, but she and her staff are "very qualified" to help and also take over for each other to address taxpayer inquiries or issues.
"I enjoy working with the people," she said. "I know what I am doing and I'll do my best to take care of their tax problems and get everything done in a timely manner for them and be here to help the public."
Well-acquainted with process says Hudson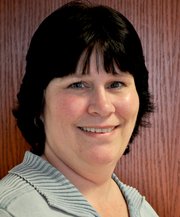 GRANGEVILLE – "I know I am more than capable of doing the job. I know I am competent at learning what I need to know, and I'm fiscally responsible," said Abbie Hudson.
In the race for Idaho County Treasurer, a four-year term, Hudson will face fellow Grangeville resident and incumbent Deanna Hall in the May 20 Republican primary election. The victor in this race will face off against Democrat Michelle Perdue of Grangeville in the Nov. 4 general election.
Hudson, 48, has worked at the Idaho County Courthouse in Grangeville for more than 18 years, the last 10 as the county deputy auditor. She started in the assessor's office and then worked seven years as a roll clerk where she assisted appraisal staff and tax collection. As deputy auditor, Hudson has multiple tasks that include auditing incoming money to the county and disbursing it to the individual departments and taxing districts, handling payroll for more than 115 public employees, balancing county department monies and working on county budgeting.
"It's a lot of bookkeeping," she said, and it's a process that takes her full circle through the process of appraisal, collection, tax calculation to distribution; and from the local taxing district level right up to the state. "Based on all that I can tell you how your tax bill is made down to the last dime."
As the treasurer's department now stands, "what's in place works well," Hudson said, "however, I would branch out the investing portion of it," better using available tax dollars held in the county account, in accordance with state law, to earn more through both short- and long-term investments. For the past several years, for example, the Idaho County Commission has held the tax levy static – not taking the annually allowed 3 percent increase – and so improving the return on county investments, she said, would help fill budgeting gaps as the commissioners hold this fiscal line.
"We should make our money work for us to the best of our ability and to the letter of the law," she said. "That's what keeps us from having to pay more taxes…. If we leave it idle, we're not doing the county any favors."
Public service is a large part of the treasurer's job, according to Hudson.
"It's important to know the job well enough so when someone comes in you can get them the information they need, get them to the right person, or how can their problem be solved," she said. The treasurer is the intermediary who can help the person understand how their tax bill is calculated — which can depend on a number of factors including assessment costs and the number and amounts of levies affecting them — and how they could change it, such as through the Circuit Breaker program or solid waste exemptions.
"Taxes are an everyday thing," she said, and people are in every day involving this, whether paying late or prepaying. The treasurer's office involves intricate balancing for not only departments but also funds, such as the $1 surcharge for emergency communications, that require separate auditing. It means working with title companies on title information searches, and also in assisting delinquent taxpayers on what alternatives are available to them to avoid losing their property.
"A lot of the job is working with people internally in the courthouse," she said. "Everything runs in a circle, and it's important all the offices can work well together. It makes for a better experience for the public."
Hudson has considered the treasurer position for years, pursuing it now as the logical step in her county career path, and allowing her to apply the knowledge and experience she's gained at the next level.
"I'm a good people person, and I really feel I can help people feel comfortable and get the information they require," she said.