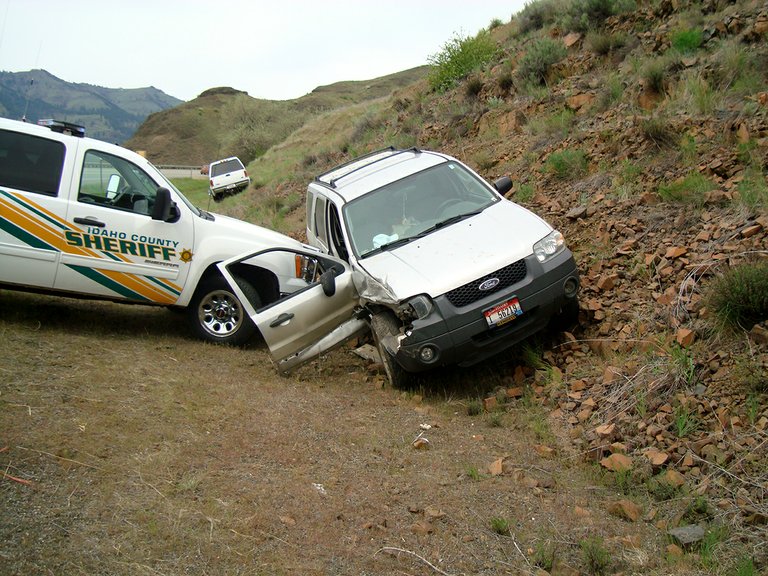 Wednesday, April 23, 2014
Two Grangeville residents were injured following a Monday afternoon collision two miles south of White Bird on U.S. Highway 95.
Donald E. and Rebecca J. Wilson, both 70, were transported to Syringa Hospital in Grangeville. Patient status was unavailable. Both were wearing seat belts.
The crash was reported April 21, 12:31 p.m., at the intersection of U.S. 95 and Old Highway 95, according to an Idaho County Sheriff's Office report. Donald was driving a 2005 Ford Escape southbound on U.S. 95, and Larry E. Zbinden, 78, of White Bird, was southbound driving a 2001 Ford F-350 pickup on Old Highway 95. Zbinden stopped at the stop sign and then proceeded onto U.S. 95 without noticing Wilson, at which point both vehicles collided and ran off onto the left shoulder.
Zbinden was wearing a seat belt and was not injured. Inattentive driving was listed as a factor in the crash, however, no citations were issued.
ICSO Deputy Mike Brewster investigated the crash. Medical services were provided by Syringa Ambulance and White Bird QRU. Dale's Rescue Towing provided wrecker services for both vehicles.