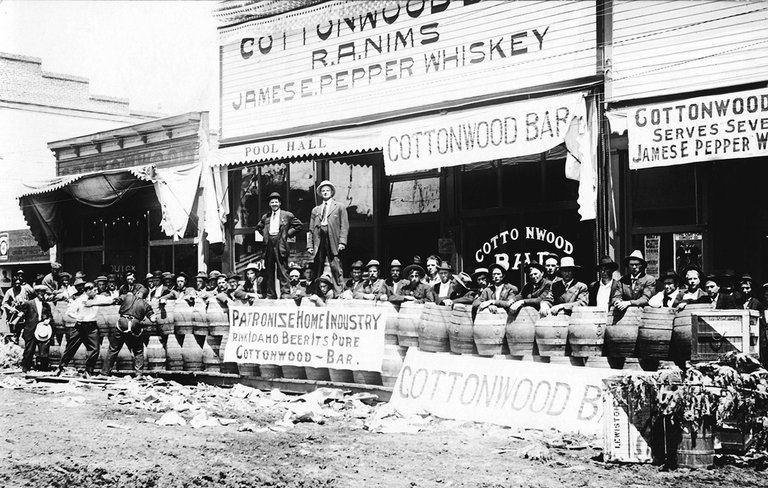 Wednesday, April 30, 2014
10 YEARS AGO
APRIL 28, 2004
•Joining the Blackmer Funeral Home staff in Grangeville is Shaun Riener of Cottonwood. He will begin a two-year mortician internship follows by attending a mortuary science program from Arapaho College in Colorado.
•Grangeville High School named valedictorians for this year, Kimberly Carlson, Jared McCulley, Julia Muench and Jenne Schmidt and Laura Workman is the class salutatorian.
20 YEARS AGO
APRIL 28, 1994
•Three Grangeville High School students will be participating in Music in May, the only collegiate sponsored, large ensemble event in the Northwest.
The Grangeville representatives will be Deanna Kingma, Polly Thompson and Cami Nine.
30 YEARS AGO
APRIL 25, 1984
•An Easter hat parade was the highlight of Easter festivities at the Grangeville Senior Citizens Center on Friday. Several contestants marched to the tune of "Easter Parade," played on the piano by Esther VonBargen and sung by the 135 senior citizens at the noon meal. The five women chosen as the winners of the Easter bonnet contest are Lottie Lotz, Bonnie Williams, Dorothy Kissinger, Ruth Webber and Myrtle Geisinger.
40 YEARS AGO
MAY 1, 1974
•At a time when many persons are seriously considering cutbacks because of current inflation, one Grangeville business firm has expanded its business, for a second time.
Mr. and Mrs. Ben F. Bush saw the need for a complete shoe store, separate from the Baza'R department store and feel their faith in the growth of Grangeville justifies the expansion of establishing a shoe store in the building next to Josef's Bakery on Main Street.
50 YEARS AGO
APRIL 30, 1964
•R.D. Williams, owner of Western Auto Associate Store has announced M.D. (Mike) Johnston will join the firm's staff May 1.
60 YEARS AGO
APRIL 29, 1954
•Jack Stegner was elected president of the Grangeville Junior Chamber of Commerce.
•Alexander-Freidenrich Co. celebrated its 75th anniversary of continuing operation in Grangeville.
70 YEARS AGO
APRIL 27, 1944
•A supply of penicillin was received from Boston to treat Connie Akins, 14, in the Grangeville Hospital. A doctor in Boston was sent a wire telling of the need of the miracle drug here and he advised the center in Terre Haute, Inc. Dr. L.A. Wheelright received the drug. Only 14 percent of the drug is allowed for civilian use. The rest is used entirely for the Army and Navy.
80 YEARS AGO
APRIL 26, 1934
•Weston Henry, deputy school superintendent of the county, conducted the eighth grade examinations in Kooskia, Ferdinand and Riggins.
90 YEARS AGO
MAY 1, 1924
•The old Mt. Idaho hotel 50 years ago has been razed by Ira Hindman, and the lumber used to build a house. It was built in 1873 for L.P. Brown, early pioneer and was constructed entirely from hand-planed and hand-hewed lumber.
100 YEARS AGO
APRIL 30, 1914
•EDWARDSBURG – The first of May the dog teams will be taken off the trail and the trail broken for horses.
110 YEARS AGO
APRIL 28, 1904
•The post office department announces that bids will be received for carrying mail on a star route between Florence and Resort (Burgdorf) via Salmon River, three times a week from July 1 to Dec. 31. This will establish direct mail service between Grangeville and Warrens.
120 YEARS AGO
APRIL 27, 1894
•In consequence of winter diet and lack of open air exercise, the whole physical mechanism becomes impaired. Ayer's Sarsaparilla is the proper spring remedy.