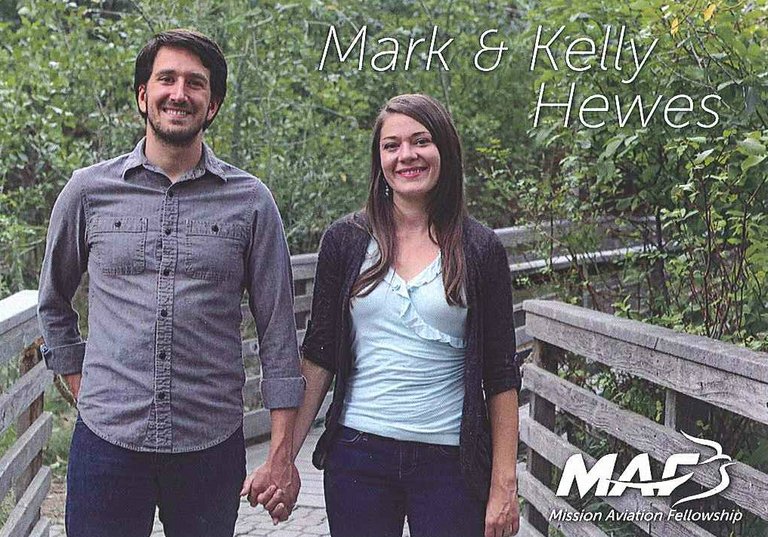 Wednesday, February 5, 2014
GRANGEVILLE — Practically uncharted territories, people who don't speak the English language and adventure at its greatest all await Mark and Kelly Hewes.
"We're so excited for this opportunity – it's hard to put words to it," smiled Kelly.
Mission Aviation Fellowship
Mission Aviation Fellowship (MAF) is a Christian organization that provides aviation, communications, and learning technology services to more than 1,000 Christian and humanitarian agencies, as well as thousands of isolated missionaries and indigenous villagers in the world's most remote areas.
MAF began with several World War II pilots who had a vision for how aviation could be used to spread the Gospel. In 1946 the US took its first mission to the air.
The movie "End of the Spear" tells the story of the life of Nate Saint who was an evangelical Christian missionary pilot to Ecuador who, along with four others — Jim Elliot, Ed McCully, Pete Fleming, and Roger Youderian — was killed while attempting to evangelize the Huaorani people through efforts known as Operation Auca.
Kelly Gates Hewes and husband Mark spoke at the Grangeville Church of the Nazarene Sunday, Jan. 26. The couple is serving with Mission Aviation Fellowship.
Kelly, the daughter of Paul and Gail Gates of Grangeville, was born in Illinois and moved with her family to Grangeville when she was 11. She graduated from Grangeville High School in 2003.
In junior high Kelly said she became interested in missions and other cultures. She went on a short-term mission trip to Panama during high school, giving her the first taste of what she may one day like to be involved in.
Kelly went on to study business administration at Northwest Nazarene College in Nampa.
"I really wanted to intern in a job that involved missions somehow but it didn't seem possible for where I lived and went to school," she said. Then, just prior to her senior year at NNU, Mission Aviation Fellowship (MAF) moved its headquarters from California to Nampa where they could better train pilots and crews in Idaho's rugged terrain.
"I couldn't believe it," Kelly smiled. "I applied for an internship and I got it."
She worked there in the marketing and communications department her final year of college, then following graduation she worked as a marketing intern for Hope International in the small European country of Muldova.
"I loved that experience and cried when I had to leave," she said. It was a nine-month program after which time she returned to Idaho and was hired by the ministry advancement department of MAF where she currently works as the direct mail administrator.
Mark was born in Salt Lake City, the son of an American Baptist minister. His family settled in Arco and he also attended NNU as a student of graphic design and film.
"I had lofty plans of making Hollywood films in Idaho," he laughed. He worked for an ad agency in Boise and worked for a variety of non-profits when he felt called to "do something more."
"I wanted to help in some small way, to tell people's stories through film," he said
He opened his own business specializing in media production for non-profits. For the past three years he has served as director of media at Boise First United Methodist Church where he and Kelly are members. Though they both attended NNU, they did not meet until after college in 2008 and married in 2011.
Now, the couple has been given the opportunity to serve with MAF to reach isolated people around the world. They plan to leave in March with plans to go to Africa, Indonesia and Haiti for a two-year period where they will use their skills and talents to help spread the Gospel.
"I am so excited to be a part of seeing firsthand the very first time people open a box of Bibles and read the word of God in their own language," Kelly smiled.
The couple has to raise their own support for the endeavor and have thus far raised $50,000 which is about halfway to their goal.
"Number one, you can support us through your prayers, which is the most important thing you can offer us," Mark said. "If you feel led to support us financially, we feel blessed about that also."
To donate to the ministry log onto www.maf.org/hewes or send to the Hewes at MAF, PO Box 47, Nampa, ID 83653.