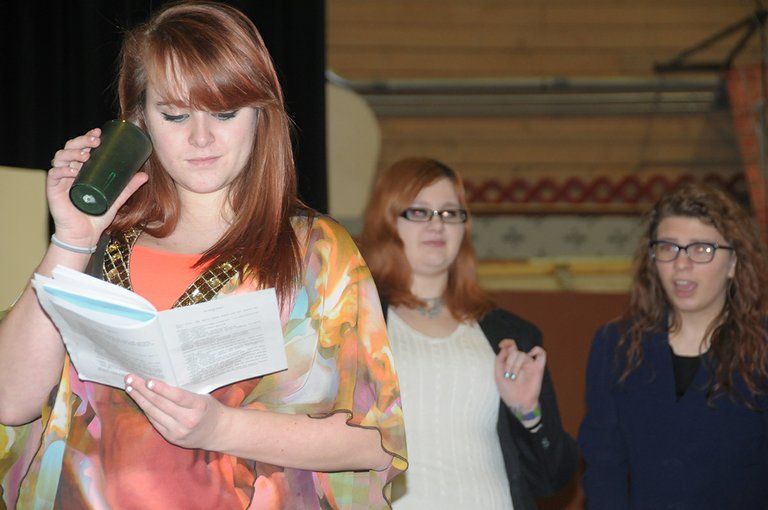 Wednesday, February 5, 2014
GRANGEVILLE — What do you get when a Park Avenue family and a poor hillbilly family are thrown together to live in the same home? A comedy that pits the wealthy against the uneducated and brings laughs to audience and cast members alike.
Grangeville High School's drama department will present "Surviving Reality" this Thursday through Saturday, Feb. 6-8, at the GHS auditorium at 7 p.m. each night. Cost is $5 for adults and $4 for students.
"It's always a push with students involved in so many other activities at the same time, but everything always seems to come together," smiled teacher and director Lynette Lothspeich as students practiced last Friday.
According to the plot, the Park Avenue Tuttletons must resort to appearing on a television show to recoup their finances along with the poor hillbilly Hatters who desire their 15 minutes of fame.
"If you can't trust a person named 'Fastbuck' at a television station named 'cheap" [CHEP} then who can you trust?" shrugged actor Carissa Olson as reality show producer/director Olivia Stone.
The cast is as follows: Lily Willig as Brenda Byrd; Alex Summers at Neville (Norma) Nerdstrom; Charity Galloway as Harold (Harriet) Fastbuck; Carissa Olson as Olivia Stone; Hailey Uhlenkott as Casey; Lauren Goldman as Marlena Rivers; Kate Craig as Langston Tuttleton; Delayne VanGunten as Millicent Tuttleton; Taylor Wilkins as Sydney Tuttleton; Travis Goehring as Lawrence Tuttleton; Camron Killmar as Jasper Hatter; Jenni Forsmann as Nadine Hatter; Ashley Wolff as Scooter Hatter; Rachel Mager as Wanda Mae Hatter; Skylar Herman as Gert Hatter; Hailey Uhlenkott as Juniper Hatter; Kristin Kaschmitter as Granny Stonewall Hatter and O'Melodi Whiteman as Lizzie.
Lighting and sound technicians are Matthew Payne, Zach Stinnett and Seth Bartlett. Michelle Conroy is assisting with props while Sarah Fischer has been in charge of set design.