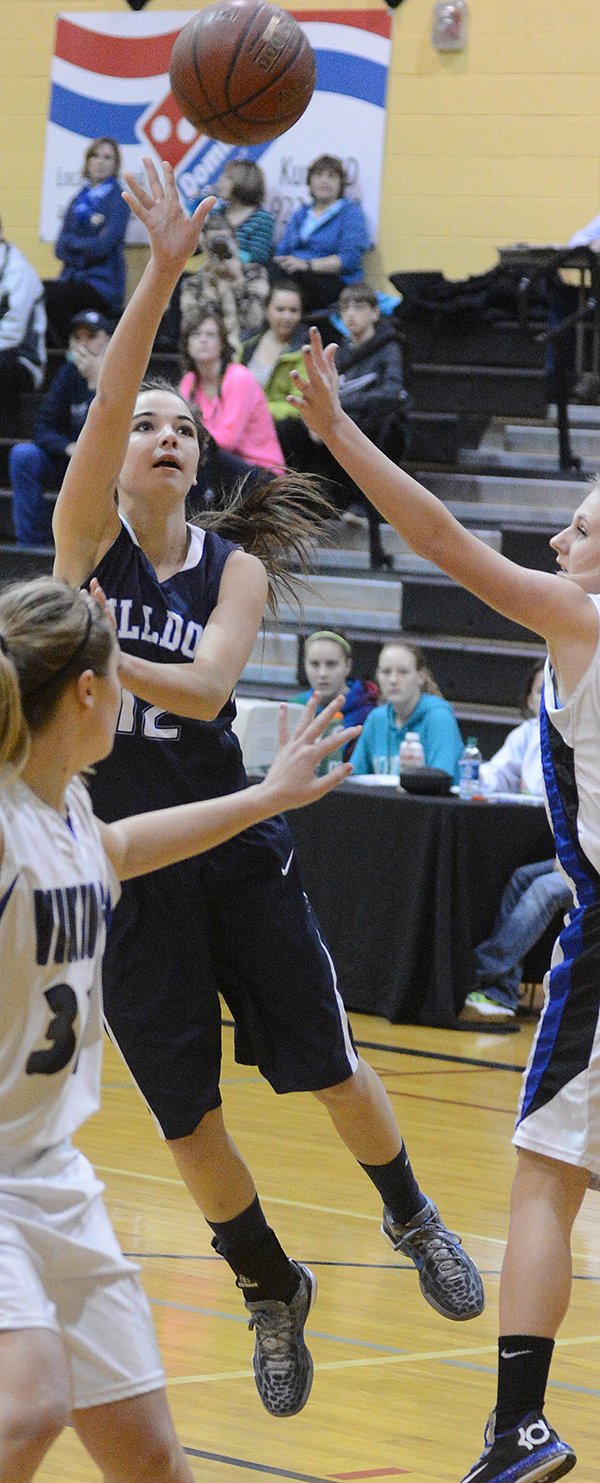 Wednesday, February 26, 2014
KUNA — Last Friday morning, Feb. 21, the Grangeville girls awoke from a nightmare start to their season-ending tournament and finished off their final 2014 games in a fashion befitting a proud basketball tradition.
Their consolation bracket foes, perhaps energized by knowing Melba held one of the state's higher-scoring teams to just 27 in a first-round upset last Thursday night, Feb. 20, did not fall easily.
New Plymouth, which fell by a single point Thursday night against Firth, fell behind early and trailed by seven at halftime. The Pilgrims rallied to take a two-point lead into the fourth quarter, and kept Grangeville within a single possession. Even so, GHS pulled out a 40-37 victory on the strength of a 21-point night from senior Chantel Key; (Addie Lutz added nine).
Having passed that test, Grangeville pulled off a 38-32 victory over Valley on Saturday morning, Feb. 22, despite losing sophomore standout Hailey Sullivan to an injury early in the second quarter.
Grangeville led Valley by four, 7-3, after a 6-0 GHS run capped by Key, who broke free for a layup midway through the first quarter. Valley rallied to take an 8-7 lead, but McKenzie Kennedy knocked down a long jump shot to boost Grangeville back into the lead, 9-8, late in the first frame.
Grangeville was up 10-8 when Sullivan fell; Kaleala Bass upped the GHS lead to four, 13-9, with a fast break layup less than a minute before halftime.
The teams combined for just five points (4-1 for Grangeville) after Sullivan was helped off; both squads regrouped and played more effectively after halftime, and GHS scored 17 in the fourth quarter to turn back Valley's late charge.
But during the Bulldogs' tournament opening loss, 44-27 against Melba, no such flurry materialized. Grangeville trailed by just a point at halftime, 16-15, but got into major foul trouble early in the third period. Lutz was whistled for her third on the first scoring play out of halftime and Sullivan's third was blown a moment later.
Key kept Grangeville in contention with a layup that cut Melba's suddenly-six-point lead to 21-17, and trimmed the deficit further with a trey making it 23-20 after Sullivan's fourth.
But Melba pushed its advantage back to six late in the third quarter and went up eight on a pair of foul shots as Melba's Reeves (18 points) drew Lutz's fourth.
From then on, Grangeville had to force the action, but could scarcely afford to foul out any of its primary scoring threats with more than six minutes remaining, and so tried to bring up a full-court press. But, perhaps because of the need to avoid fifth fouls, this alignment applied too little pressure to be disruptive and allowed two quick layups.
Next time Grangeville scored, Key hit a three that kept GHS within 10. Melba made none of the blunders that might have revived Grangeville's chances.
Key scored 12 on Melba, and totaled 42 in the tournament.
Grangeville finished 20-5 overall.