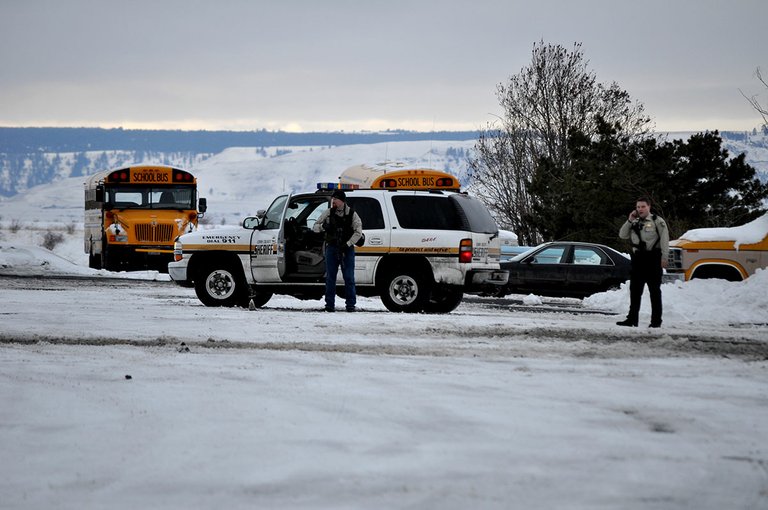 Wednesday, February 26, 2014
GRANGEVILLE — The Monday, Feb. 10, lockdown at Grangeville High School may seem like a waste of time in hindsight, but that's not how Mountain View School District 244 superintendent Kent Stokes is looking at it.
"I actually believe this was a blessing in disguise," Stokes said.
The lockdown of Grangeville schools resulted from a report a person had been seen carrying a gun into the school. The firearm turned out to be a toy gun for a school play prop.
"For me, building new relationships with law enforcement, this was a great opportunity to see how things run," said Stokes, who moved to the area last summer to begin the job as superintendent for the 2013-14 school year. "I have learned I have complete faith in Grangeville Police Chief Morgan Drew and the rest of our local law enforcement."
Stokes said the incident proved to him the school and authorities have good procedures in place for such incidents.
"We have been in the process of purchasing and installing extra locks and cameras and know that will help make a difference in the long run, but I'm feeling pretty darn good about the response and the way things panned out," Stokes said.
Stokes said you "never know until you experience something like this" how it will go.
"One thing that is difficult is dealing with the social media," he added. "I wish people wouldn't write things when they don't know yet what is going on. But we can only control what we can control."
Stokes also said he and Chief Drew have sat down since the incident and gone through additional scenarios.
"It's been really good for us to go over the incident and other potential situations," Stokes said. "Our emergency plan is definitely ongoing."
The lockdown procedures included Grangeville Elementary Middle School where more than the usual number of after-school students were housed as Missoula Children's Theater auditions were taking place as well as Kids Klub, Inc., after-school program being in session and middle school volleyball team members were practicing.
"The world is changing very quickly, and it certainly keeps us on our toes. Even with all of these changes, the most important concern continues to be the safety of our children," said GEMS principal Alica Holthaus. "Events like Monday's are always stressful, and hindsight is always 20/20. The best we can do is keep level heads during the event and learn from every experience. "
Holthaus said GEMS' lockdown procedures have not included a plan for after-school hours in the past.

"However, the daytime procedure worked with a few modifications. Cell phones and electronic media have also led us to make some changes in our procedures," she said. "We made notes of our observations and are making the changes that we feel are necessary to improve our plan."
Along with keeping the children safe, Holthaus said she wanted to avoid frightening either the children or the parents.

"I was so pleased with how well the parents handled the information as it started coming in through calls and text," she said. "By remaining calm they helped keep the situation under control. I appreciate each one of them for their help."
Holthaus said her staff, the KK staff, and coaches went above and beyond in helping create a safe and calm environment.

"I was also impressed with the actors from Missoula Children's Theater. When I approached them to notify them that we were locking down they were very professional. They kept the auditions moving and everything as normal as possible," she said.
"I felt that the lockdown served as great practice for GEMS and Kids Klub staff," commented KK teacher Kristi Keeler. "We are prepared to handle situations like this during the school day, but it was certainly unique as this occurred after school and during Missoula Children's Theatre auditions. We had 125 kids plus parents in the multi-purpose room when the lockdown was initiated. "
Keeler said if students were supposed to walk home, they had to call to make arrangements to be picked up.

"I feel it definitely would have been safer to not allow anyone in the building during the lockdown, but also understand that parents were concerned for their children's well-being," Keeler added.