Wednesday, February 26, 2014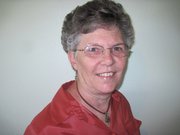 COTTONWOOD — Mega Kudos to the Summit Academy boys' basketball team. They have been named Academic State Champions for 1-A, Division II. They had a team grade point average of 3.550. The award will be presented at the state basketball tournament in Caldwell.
Krystin Uhlenkott has been saving pull tabs for the Ronald McDonald House for the past year. She currently has approximately 330,000. Her goal is 1 million tabs. She appreciates the help. So far the response has been fantastic! Drop-off points are Gem Design in Grangeville and Prairie Elementary School in Cottonwood. If you have any questions you can contact her at 962-3847. Keep up the good work.
St. Mary's Hospital Foundation is planning its big fund-raiser for the year. Mardi Gras will be on March 22 at the Cottonwood Community Hall. The event will begin at 5 p.m. with a social hour followed by dinner, silent and live auctions, dancing and casino games. The dress for this event is dressy casual to semiformal. They have some great auction items lined up. Tickets for the event are $35 each and are available at St. Mary's Hospital and the Cottonwood Clinic or by calling Cheri Holthaus at 962-2327. A delicious meal is planned. Proceeds from this event will go toward remodeling the emergency room at St. Mary's Hospital. If anyone would like to donate cash or auction items, contact Cheri.
Aaron Goeckner has donated a doghouse which he made for Buster, the mascot at the library. Buster is very happy to have a home of his own. He loves to listen to Storytime at the library with all the preschool kids. Miss Pollyanna has done a great job so far, and the kids just love her.
Progress is being made on the new children's center at the library. One wall has new shelves and we are waiting for shelving for a second wall. Then we will be making the move to the new center in the opposite corner of the library. The young adult section will also move. Come by and see what we are doing.