Wednesday, January 8, 2014
By the age of 13, Shirley Wilson Sears had found her calling.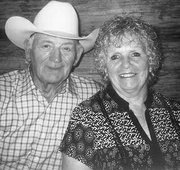 "I had taken dance from ages 4 to 12, then my teacher moved," said Sears, who turned 70 in 2013. "Every time I walked into the Craigmont Post Office, postmaster Ollie Acheson would ask me to teach his daughter to dance. Finally I gave in and started with four kids, then it grew."
In 1956, Shirley's Dance Studio was founded in Craigmont; 57 years later it's alive and well in Clarkston, Wash. Throughout the years Sears has taught in many towns across the prairie and Palouse — Nezperce, Winchester, Orofino, Lewiston, Kendrick, Pullman, Moscow, Oakesdale and Grangeville.
"I ended up with about 30 kids in the Craigmont dance class. I didn't really know what I was doing," laughed Sears. "The good thing was, I could dance and I was creative."
Sears graduated from Craigmont High School in 1961. In 1962, she met Orvil Sears at a ranch in Lewiston. They were married Sept. 7, 1963, during the Lewiston Roundup. The couple spent their first fall and winter at the J.R. Simplot Co. feed-lot in Rupert. In the spring of 1964, they moved back to Lewiston where they spent the next two and a half years.
In December 1966, Orvil was employed by Washington State University as herds manager for the department of animal science. He spent his life taking care of horses – shoeing them himself for more than 50 years – both at WSU and at home.
She has choreographed the Washington State Distinguished Young Woman program (formerly Junior Miss) for the past 40 years, with her husband acting as stage executive.
Dana, Sears' daughter, taught dance in Grangeville weekly for many years until she made the decision to stay closer to home and her three children. Going on 14 years ago, Sears began the weekly drive to Grangeville. Most weeks Orvil is in tow, often driving and always helping.
Orvil retired in 2003. The couple moved to their current Pullman, Wash., 17-acre ranch 40 years ago. There they raised their children: Cotton, Dana and Jody. They now have 12 grandchildren and were also blessed with a bonus child, Jennie Taylor of Lewiston, and two bonus grandchildren. In 2013 they celebrated their 50th wedding anniversary.
"All my kids took dance," Sears said. "The boys took it through eighth grade – I was working and I wanted to know they were doing something constructive. They all played sports and participated in other activities and they had a great foundation that dance helped them with."
Bambi Baker of Grangeville has danced for 21 years, starting in classes with Sears' daughter when she taught in Grangeville. For the past seven-plus years she has assisted with several of Sears' Grangeville classes.
"Shirley is a very hard worker. She would stay until midnight in a blizzard if you needed her to," Baker said. "She loves all her kids and she knows how to dance. She is the real deal."
"If you want to learn to dance, gain confidence and bring out your best, then dance with Shirley," Baker added.
Sears continues to drive to Grangeville weekly and also began offering lessons in Nezperce and Orofino in the fall of 2013.
For questions call 509-758-6510.