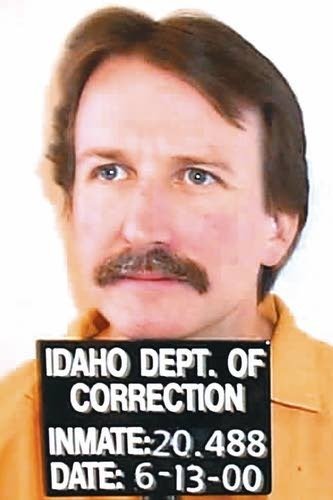 Wednesday, January 22, 2014
The Idaho Commission of Pardons and Parole reversed an earlier decision that would have granted convicted murderer Bryan S. Lankford parole in four years.
Executive Director Olivia Craven said Thursday, Jan. 16, the commission changed its earlier ruling based on "a procedural error." The ruling denying parole means Lankford won't go before the parole board for another five years, January 2019.
"As any inmate does, Bryan has the right to submit an appeal six months from now, which would be July," Craven explained. "If that were denied then he would have the right to appeal annually. The commission also has the right to deny those submissions."
Craven said any communication to appeal must be initiated by the inmate.
In 1984 an Idaho County jury convicted Lankford for the slayings of U.S. Marine Capt. Robert Bravence and his wife, Cheryl, of El Paso, Texas (formerly of Arizona). The couple had been camping in the backcountry of Idaho County at a campsite near Santiam Creek at the time of their deaths.
"We as a family are definitely relieved about this," said Kerry Lehto, brother to murder victim Cheryl Bravence, during a phone interview last Friday. "We really didn't know what to expect – we knew it could possibly go a different way."
Lankford and his older brother, Mark Lankford, both from Texas as well, were convicted in separate trials and sentenced to death. Bryan's sentence was later commuted to life imprisonment.
Mark's death penalty was also overturned and he was convicted a second time in 2008 in Shoshone County and sentenced to life in prison. A third attempt for trial was recently refused by a senior judge.
The commission received "a lot of letters about the case," Craven said, but she also said they did not figure into the recent decision to deny Bryan's release. All letters will be kept on file and will be accessible to the commission.
"I just want the public to know all these letters were received and will be maintained for the next hearing," she said.
Lehto said the issues that have come up with appeals, sentencing and parole have been "difficult for the family."
"This never goes away," he said from his Las Vegas home where he works as a writer. "It's very draining both emotionally and physically."
Lehto was only 17 when his sister and her husband went missing.
"I was a senior in high school and it was unreal," he said. "Your mind goes through all sorts of 'what ifs.'"
It was three months later when the Idaho authorities called the Lehto family.
"I remember an immediate sense of relief that part of the mystery was solved," he said. "Then started the whole other part of the puzzle, finding out what happened to Robert and Cheryl and then there's a whole new set of thoughts about what they went through and how they felt, as well as who did this to them and why."
Facing the Lankford brothers in the courtroom, Lehto described, has been "one of the hardest things ever."
"To come face to face with the people who killed your sister – it's indescribable," he said.
Although the years have had a tremendous effect on Lehto and his family, "the trauma highlighting both the best and worst threads in all relationships," he said, the best thing to do is "remember them for who they were."
"We – their families and friends — keep the energy of their spirits alive by remembering what amazing people they were," he emphasized.
"I know after someone dies it is easy to say how wonderful they were," Lehto admitted. "But I want everyone to know they were wonderful. Cheryl was a special education teacher with an absolute heart of gold. Robert was a very giving man. They were soul mates. We keep the joy of their lives in our minds."
Although all the parents of the couple have since died, Cheryl's three brothers (including Kerry) and a sister are living as well as Robert's brother.
"Time puts a scar on what happened," he said. "We are so grateful for the support we have received from the people of Idaho and all around the world."
"What I hope is this recent decision not only sheds light on our specific event, but also raises awareness about the fact that violent criminals can be released," Lehto stated. "We need to be aware this happens and be prepared to stand up against it."