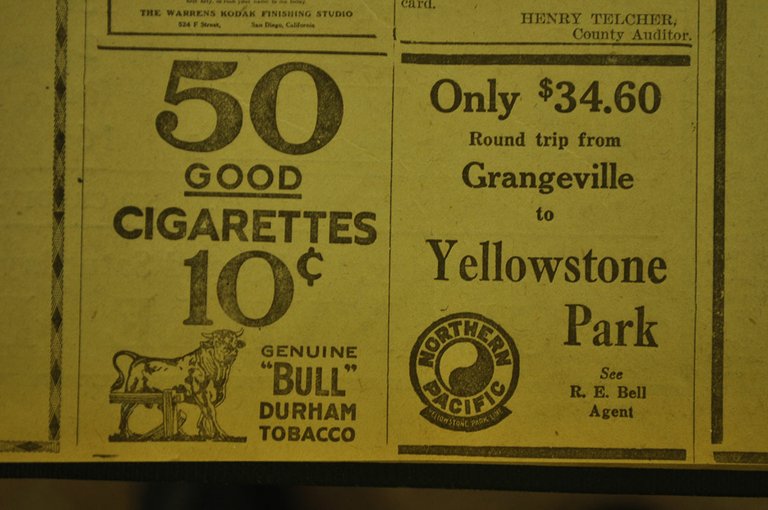 Wednesday, January 22, 2014
10 YEARS AGO
JANUARY 21, 2004
•GRANGEVILLE – Brian Hewson was hired by the Grangeville Police Department Jan. 8 to replace the position of officer Leroy Matthews who resigned in November.
20 YEARS AGO
JANUARY 20, 1994
•Two local high school students are credited with saving the life of a Dixie woman who spent 40 minutes in frigid water following an auto accident Friday afternoon.
Family members credit her recovery to Elk City residents, Jarod Layman and Ben Harvey, who found her clinging to the brake line of her upside-down vehicle about 23 miles east of Elk City.
30 YEARS AGO
JANUARY 18, 1984
•Dennis Malone has been promoted to assistant manager of the Grangeville office of Idaho Bank & Trust Co. He had been consumer loan officer there since 1980.
In Grangeville, Malone is active with the chamber of commerce and president of the Grangeville Jaycees.
40 YEARS AGO
JANUARY 23, 1974
•RIGGINS – After two weeks of subfreezing weather this area was hit by temperatures in the high 50s and 60s and this past week flooding creeks and rivers and sliding mountains created havoc in the Big and Little Salmon River areas.
50 YEARS AGO
JANUARY 23, 1964
•Snowhaven, slopes of Idaho County Ski Club, seven miles south of Grangeville, is getting lots of activity now with a good covering of snow The ski area is attracting those who like to ride the "slats" from many communities in the Central Idaho area. Snowhaven was mentioned in the January Sunset magazine.
60 YEARS AGO
JANUARY 12, 1954
•Glenn Gribble opened Glenn's Radio Service Shop on North State St.
•Another vehicle is down in a 1,000-foot deep ravine below the lookout point on White Bird grade – this time a truck and semitrailer.
70 YEARS AGO
JANUARY 20, 1944
•Grangeville Lions will again sponsor and operate the Grangeville swimming pool.
80 YEARS AGO
JANUARY 18, 1934
•Gambling devices such as slot machines, marble games, games played with cards, dice, or any other device for money, checks, credit or merchandise, will soon be outlawed in Idaho.
•A disastrous fire swept the little town of Riggins and totally destroyed the Antlers Hotel and Café. Loss was $15,000.
90 YEARS AGO
JANUARY 24, 1924
•Seventy-five thousand dollars will be expended during the present year in extending the South Fork highway toward Elk City.
100 YEARS AGO
JANUARY 22, 1914
•Displaying the same effervescent enthusiasm that has characterized Idaho County since pioneer days, the first annual convention of Idaho County Good Roads Association was held in Grangeville.
110 YEARS AGO
JANUARY 21, 1904
•There is talk of a road being constructed from Remington's Ferry down the east side of Salmon River about one mile, connecting with the road running down the White Bird Creek.
•The leap year ball given by the young ladies of Grangeville was one of the most enjoyable balls in the history of the town.
120 YEARS AGO
JANUARY 19, 1894
•Four girls were killed in the snow-slide which occurred in the gulch putting into White Bird at Joe Jewell's. The snow-slide went through the sides of the house where they slept, throwing the boards down on them. All were either crushed or smothered. A baby who slept between the two older girls escaped uninjured.
•J.W. Evans writes that many cattle have been killed by rolling from the hillsides on Salmon River. Eight head rolled last week.