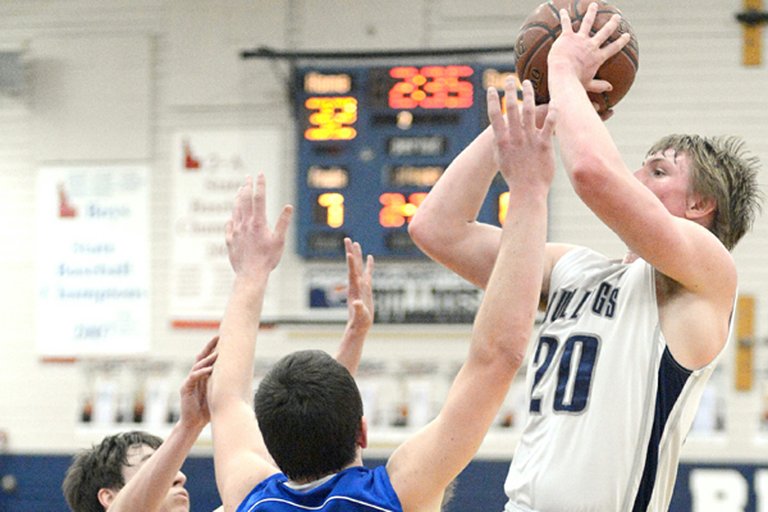 Tuesday, January 28, 2014
GRANGEVILLE — The Bulldogs led nearly from start to finish in beating the visiting Maniacs 61-31 Tuesday night. Orofino briefly led, 3-2, but saw GHS forward Jasper Sabatino put Grangeville in front with back-to-back baskets early in the first quarter. Orofino pulled within one point, 8-7, midway through the first quarter, but the Grangeville boys put together an 11-0 run to close out the period with a lead they would not relinquish.
The decisive spurt began with forward Michael Wilson racing in for a transition layup, which Layton Harris followed up with a triple from the left corner, which was set up by a long skip pass from right wing. Then Wilson converted a jumper off of an inbounds play. Just before the first quarter buzzer, Wilson put up a trey that rolled on the rim and went in just as time expired.
Orofino remained mired with a single-digit total until midway through the second quarter. Before the Maniacs found their scoring touch, Grangeville increased the margin to 17 on back-to-back fast break baskets. After a three by Josh Dame off a strong pass from Wilson, Wilson converted another fast break layup.
The GHS lead reached 20 on a possession Alex Koberstein saved twice: first with an offensive rebound, and again when he scrambled to swipe a loose ball from beyond the end line into the waiting hands of Jake Stokes, who knocked down a short jumper.
The fourth quarter was played with a running clock, after Austin Parks ramped the Grangeville lead to 30 with a tough jumper at the end of the third quarter.
More details on this game will be published in the Feb. 5 print edition of the Idaho County Free Press.