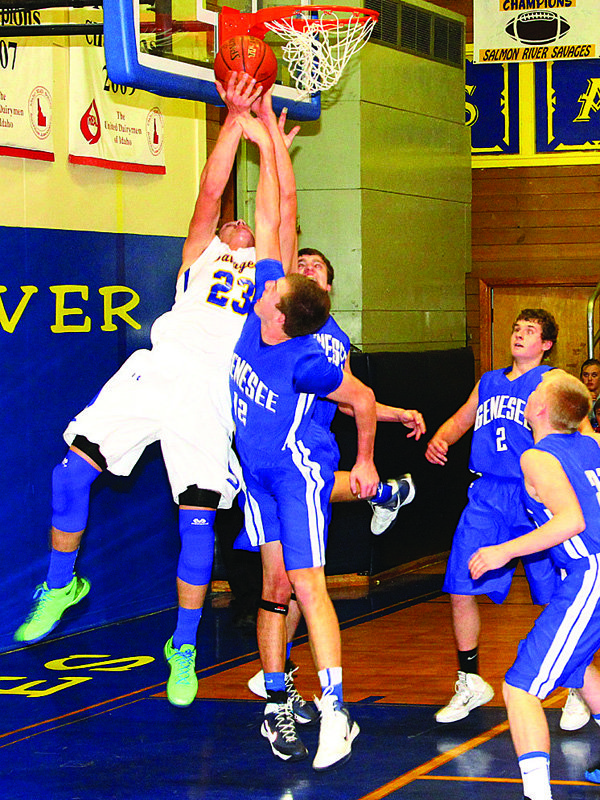 Wednesday, January 29, 2014
RIGGINS — Though shorthanded, Salmon River found a way to beat the only team they lost to last year. Primary scorers Leighton Vander Esch (39 points) and Jimmy Shepherd (16 points) combined for seven three-pointers as the Savages rattled off a 59-42 home win over Genesee last Saturday, Jan. 25.
Genesee's Reggie Tilleman and Ben Druffel both fouled out as the Savages drew 23 whistles against the Bulldogs and converted 15 of 25 foul shots.
Salmon River's long-range shooting set Genesee back. Shepherd reportedly hit two long threes early in the game, but only in the second half did the Savages pull away.
VanderEsch hooped four triples, Shepherd finished with three, and Stephen Hackler added another.
Salmon River's only other point came on a free throw by Nolan Richerson, who went one-for-three at the line while nabbing a team-high nine rebounds.
Genesee, leading 32-29 at halftime, lost steam in the second half, during which Salmon River outscored the Bulldogs at a 2-to-1 clip, amounting to a 30-15 swing to SRHS.
Coming — With six league games remaining, Salmon River (12-2, 6-0 Long Pin Conference) will likely need a home win next Tuesday, Feb. 4, to stay ahead of second place Cascade, which will play at 7:30 p.m. MT at SRHS. The Savages have two games before then, Meadows Valley (7:30 p.m. MT Jan. 31 at MV) and Council (7:30 p.m. Feb. 1 in Riggins), this Friday and Saturday.
SRHS hammered Cascade 61-31 for a road win Jan. 11: Cascade's only Long Pin loss to date.