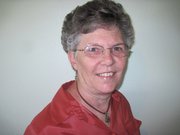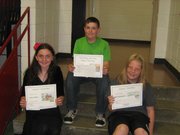 COTTONWOOD — Happy Fourth of July to everyone. Have fun with your family and friends, and remember "Freedom isn't Free." We have to work at keeping the freedoms we have or they will be taken away. Fr. Paul will have a Mass at 7 a.m. at St. Anthony's in Greencreek on the 4th of July. What a great way to start the day.
The annual Camas Prairie Basketball Camp will be held July 7-10 at Prairie gymnasiums in Cottonwood. It is for both boys and girls, incoming grades 3-9. Sessions will be from 5-8 p.m. each day. Instruction for this camp is by Prairie High School coaching staff and players. This camp will stress fundamental skills with lots of games and competitions. Camp fee is $55 and includes a T-shirt. For information, contact Teel Bruner at 962-5542 or e-mail gravescreek@q.com for a registration form. You can also pick up a registration form at Cottonwood Credit Union or Schlader Photography in Cottonwood. Registration is encouraged by July 1, but will be accepted at the door.
Jessica and Andrea Kaschmitter have been working on a wall mural at Prairie Community Library. It is an underwater scene and is very refreshing. They finished it last week. Come in and see the new children's center. It is easy to find the book you are looking for. There have been lots of new arrivals for the children, juvenile and young adult sections. The large print section and the general library for adults also has some new additions as well.
I had a great time camping with many family members during the weekend. All 10 siblings were there. It's always nice to get together with them.

The Tri-Parish picnic and Mass is coming up on July 20. Make plans to attend for a fun day. Times will be forthcoming in a few weeks.