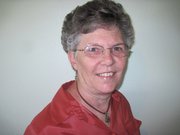 COTTONWOOD — This week for summer reading the theme was about weather. Kim Frei stepped in as substitute leader and did a great job. They learned all about rain, snow, and other information about the weather. They played Simon Says weather game. One of the crafts they made was an Extreme Weather Machine. They used two water bottles, emptied one and put colored water in the other. Some glitter and a few beads were added. The bottles were taped together and when they turned the full bottle upside down, there was a tornado inside the bottle.

Next week will be the last session, so just a reminder to all the children that they should bring in their calendars with their reading on it!
There will be no Mass at Keuterville next Sunday, Aug. 3, as Father Paul will be gone on vacation. All other Masses for the weekend will be as usual.
We have been picking raspberries and cherries last week. Both are really nice thanks to all the rain earlier this season. The air smells like harvest now in the morning, so that will not be far off.
My sisters and I took a trip to southern Idaho last week. The pickup broke down on the freeway going into Nampa. As luck would have it, the other side of the freeway was closed, so all traffic was on our side. And we had the bad fortune to break down right by a horse pasture! It was very hot, and we had flies everywhere for the two hours that we waited for the tow truck. All survived except for a few flies, and it turned out okay.
You are invited to a 40th anniversary party at North Idaho Correctional Institution, 236 Radar Road, Cottonwood. The date is Aug. 7; the time is 10 a.m. to 3 p.m.
Hey, where did the summer go? It's not that long to fair time. I'm sure the kids are working on their projects to get them ready in time.