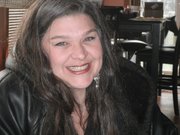 Pleasant View Baptist news
WHITE BIRD — Recording artist Aaron Weil will perform on Tuesday, June 17, 7 p.m. at Pleasant View Baptist Church in White Bird. Aaron and his parents have performed several times in north Idaho, but now he sings and travels with his wife. The concert is free of charge, good will offering taken. Come enjoy an evening of gospel/contemporary music.
The six-week study, "Faithful, Abundant, True," will begin at 10 a.m., June 13 at Pleasant View Baptist Church, hosted by Kathy Stefani. The study will meet in the fellowship hall. Written by Kay Arthur, Beth Moore and Priscilla Shirer, the study is designed to reach women of all ages. A study manual is available ($14) but not required. Ladies are to come to any or all with each session featuring a conference video session by one of the authors followed by group discussion. Contact Kathy Stefani at 839-2220.
WHITE BIRD — I've lived here for 39 of my 29 years. You'd think I'd know by now, that White Bird Days doesn't always fall on the third weekend of June. It does, however, always fall on Father's Day weekend, which all but every six or seven years is the third weekend. This year it's not. So, to correct last week's mistake, White Bird Days is June 13 and 14 this year, which is the second weekend of June. I hope nobody has to reschedule flights and motel rooms.
There's going to be a rodeo both days, a parade on Saturday and all kinds of venders, booths, music, arts and crafts. Town is going to be hopping. If you'd like to help out in any way, let somebody know. Bring your family, bring your friends, bring a lawn chair and your cooler. If you would like to participate in the parade this year, get ahold of Carrie Marek at 839-2500.
"Just for the Hill of It" is this Saturday. This is a wonderful bike challenge that benefits hospice. There will be tons of bicycles going through town and all along old Highway 95, and up the old grade. Be on the lookout for their safety.
This is also graduation weekend. Congratulation to all you seniors! Make good choices and be safe.
The Salmon River Art Guild spent their weekend at the school. They painted, socialized, walked along the creek and enjoyed hanging out in the yard. How wonderful that we have a place for them to do this! Speaking of the school, I'm getting closer and closer to having all the information about our new district. I'm hoping by next week, we'll all have a clear and positive picture of what's happening. I can't wait to fill you in. For now, let's just say, it's all good. We are in need of volunteers though, to help maintain the yard. It needs watered and mowed. If you care about this place, step up and help out. Just give me a call!
We had the last Sunday jam for the season at the Silver Dollar last weekend. We all had a great time and I know I'm going to miss the Sunday fun. Have a super week everybody!
Happy birthday this week to: Shandra Chandler, Gloria, Trevor Legg, Clint Stark, Tracy Leland, Dorene Trott, Don Sickels, Sheryl Clark, Mark Carlin, Marilyn, Sara Lyon, Kelly Bashaw, Pam Ashcraft, Jason Klement and Kortney Killgore.