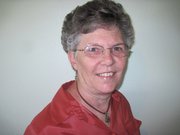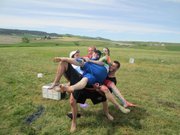 COTTONWOOD — Lots happening at Emmanuel Baptist. Aaron Michael Weil will be live in concert at Emmanuel Baptist church on Thursday, June 19, at 7 p.m. (located at 404 Foster in Cottonwood). There is no cost, but a love offering will be taken. Aaron is a naturally gifted musician with performance experience in hundreds of venues across the country with a sincere heart for serving God. He performs traditional blue grass as well as hymns. Come and be blessed. Now that school is out for the summer, it's Vacation Bible School time. Emmanuel will be hosting "Agency D3" – Discover, Decide, Defend from 1 Peter 3:15 from June 16–20. Children, 3 years through sixth grade, from 9 a.m. to noon each day with the seventh grade through 12th from 6:30–8 p.m. each evening. To start off the VBS, the bouncy house will be set up at the church on Saturday, June 14, from 11 a.m. to 1 p.m. with free hot dogs and light refreshments. Come and preregister your children and join us for the fun. Contact Pastor Dan Coburn at 962-2407.
Vacation Bible School is coming to the Tri-Parish! It will be held at the CEC building June 23-27 from 8:30-11 a.m. We are looking for volunteers to help out during VBS. If you can help, contact Morna Lustig at 871-7797 or e-mail morna@activewiring.com or Heather Uhlenkott at 962-3499, or e-mail stmarys_dre@yahoo.com. Come celebrate in the Son! Open to grades K-4 in the 2014-2015 school year, and preregister by calling Rachel Rehder at 962-7326. Registration forms are in back of all churches. Any upcoming fifth-eighth graders interested in being a teen leader, call Heather at 962-3499. We look forward to seeing your children at Vacation Bible School!
Is there any other school in the whole United States where one senior can hold all his classmates at once? Matthew Schwartz from Summit Academy did it! See the picture attached. Just guessing, that should be about 500 pounds.

As a follow-up for Memorial Day, the Sew-Ciety Quilters Guild of Grangeville is not the only local group that makes the Quilts of Valor. The Central Idaho Quilters Guild of Kamiah also does this wonderful service for our veterans. Last fall this group presented quilts to Anselm Schumacher, Lee Rehder and Vince Poxleitner. These men should also be noted, especially since Anselm has passed away since then. Both of the guilds do a great job. The quilts always turn out beautiful.
Prairie Community Library is starting summer reading on June 19. The theme this year is "Fizz, Boom, Read." That is bound to involve some kind of science experiment and who knows what else!
Each week we will have a different reader and project. The program is designed to help young children build reading and language skills. Older students are invited to be junior leaders to help Annette Wemhoff and Melissa Wilson, who are the coordinators this year. Call 962-3714.
Summer reading will run every Thursday from 1-3 p.m. for six weeks. Dates are: June 19, June 26, July 10, July 17, July 24 and July 31. There will be no program on July 3, but the library will be open. The library will be closed on July 5 for the Independence Day holiday.