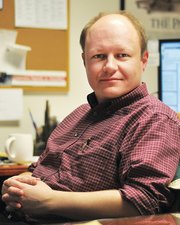 You like Idaho County, right? For the most part, that's why you live here, work here, play here.
So, do you think all that you enjoy about North Central Idaho happens for free? Well, apart from God's nice touches on our mountains, rivers and prairie … nope. Someone (a whole lot of someones actually) has to work to make things happen or keep them from happening.
What about you? You're opinionated, interested in what's going on in your community and also in what's not happening that should be. And why isn't it? And on those things that are going on, why were those decisions made instead of others?
And come to think of it, all our county officials are Republicans. What's up with that? Is the GOP just that awesome, or has Greencreek run out of Democrats?
Yep, it gets a person to thinking. About what? Running for political office.
You may scrunch up your face, but this is a good year to get involved, right here on the county level.
At the introductory stage, you can run for the inevitably uncontested precinct committee person representing your district, whether Democrat or Republican. For those looking to get their political feet wet, serving on the committee is a good step, it involves a short two-year term, and allows plenty of opportunity to get involved in supporting candidates, issues and the greater workings of your party statewide.
Taking it up a notch, Idaho County has six positions open: two commissioners, county clerk, assessor, coroner and treasurer. These are definitely more time consuming than the precinct position, however, they in turn provide more opportunity to manage and direct county affairs.
We get the dissatisfaction with national politics, but unfortunately that discouragement has spilled down to the local level resulting in poor interest by prospective candidates and in turn a continually growing voter apathy.
Idaho County deserves the best we can give it, and that takes committing our time and talents. And for those looking to make a difference in the world, local level politics is the best opportunity to be at the center of big, influential changes.
OK, clock is ticking. You have a week plus a couple of days to file your candidacy by next Friday, March 14.