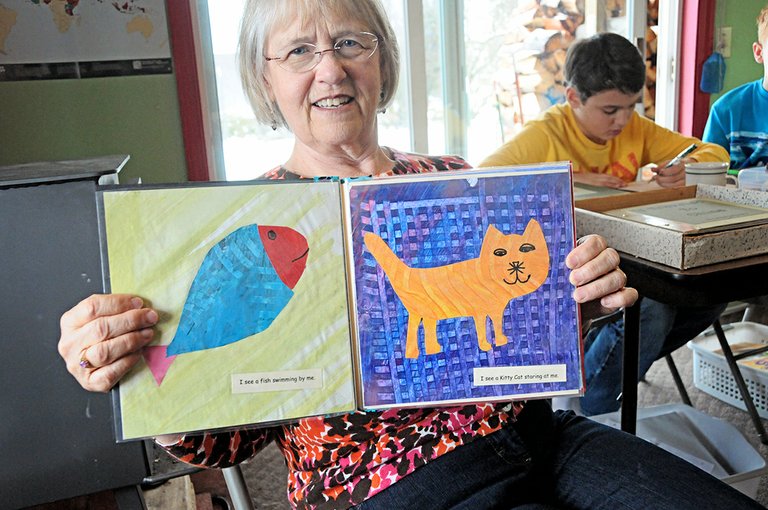 Wednesday, March 12, 2014
GRANGEVILLE — "What did you like best about studying China?" Catherine Smith asked her class of homeschooled fifth and sixth grade students.
"I liked the silk robes you showed us," said Naomi Connolley.
"I liked the pictures of the pagoda," added Dane Kinsley.
"I like the paper cutting techniques," added Clarissa Stephens.
Smith is a retired public school educator who married Jay Smith eight years ago and moved to Grangeville. She became a home school teacher (labeled as a "tutor" in Idaho) and helps educate kids in grades three and older while Jay works with high school age students.
"I was in China two separate times and I taught there," Smith explained. "So when we studied China as a class I wanted to integrate a variety of subjects."
This included not only science, history, reading and math, but also art.
Smith's class made Eric Carle style books that included making painted paper, measuring and cutting pages, writing stories and making illustrations using paper cutting art: a tradition that is Chinese in origin.
The kids' teacher was very pleased with the results.
"I think they're wonderful and we wanted to share them," she smiled, showing a book she made first as an example.
Smith talked about color patterns as well as perspectives with her students and each made a laminated book.
"I worked on finding the right colored papers," Olivia Nichols showed the pages of her book. Most students in the class – including Rose Sherrer, Baelie Kinsley and Evan Dauost – had art of panda bears but also of many other creatures.
Smith said she loves what she does and felt the call to teach when she was in fourth grade. She not only uses her experiences in travel and life in general, but also her own garden and work ethics to help students. Sometimes kids stay in her tutelage just long enough to catch up in certain areas before returning to public or private school while some study with her and Jay a number of years.
"I have always loved it and it is flexible enough for me to be able to go and visit my children and grandchildren," she said.
The students read their books at Grangeville Centennial Library Feb. 26 during preschool story hour.
"I just thought they were too good not to share," Smith said.
More like this story