Wednesday, March 12, 2014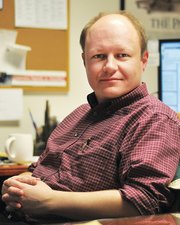 Have you been to Annie's Saloon in Grangeville? Whatcha mean there's no such place? It's on Bing maps, and the Internet is not wrong; Wikipedia says so.
If you have a little downtime for some Internet surfing, bring up the Bing map of your community. In a geeky sort of way, there's some fun to be had, such as finding where you live. Or you can try to guess the time of year, even the month, the aerial shot was taken (hint: That looks like the fireworks stand in Asker's Harvest Foods parking lot).
Then there are those little data entry glitches. Yeah, like the one on MapQuest a few years ago that would have sent my family and I to the outskirts of Meridian when we were trying to find an address in Nampa. (Thank goodness my wife was in the car to ask someone for directions.)
And then there are those nonexistent locations in your community.
As mentioned at the start, Grangeville has, according to Bing, Annie's Saloon right across from city hall, right at Daren Fales' law office. Either there's a glitch somewhere in Bing's mapping, or Daren is supplementing those slow case days by mixing highballs and Long Island Ice Teas.
(Sorta gives "passing the bar" a whole new meaning.)
But his is not the only law office with a dual identity.
Adam Green would be surprised to hear his law office — situated in the triangle intersection of North Idaho and North Junction streets on West North Street — is actually the location for the Albion Museum. Imagine the Albion Chamber of Commerce explaining those directions to visitors:
"Yeah, just take Main Street north a ways, and after 381 miles you'll hit the museum in Grangeville. Can't miss it."
Surprisingly, what we're all missing is the Nez Perce National Forest Base. You thought that was on the truck route across from the airport. Actually, it has two convenient locations: at the airport and another branch right at the Main and Idaho streets intersection; right at the stoplight in fact. One constant here is you're not likely to find the forest supervisor at either location.
And if you're planning to go to school this morning, better check the map; Grangeville Elementary Middle School is now on the north side of town, up Idaho Street between North Third and Fourth streets.
Of the county's other communities, the listings were mostly right on. Except for Cottonwood … unless US Bank decided to relocate to the welcome sign at the south entrance.
Yes, these are just little electronic snafus, picking up some data mis-key; one of those unintentional "Easter eggs" that only geeks may appreciate. I'd be looking out for more, but it's happy hour, and some legal services are in order.