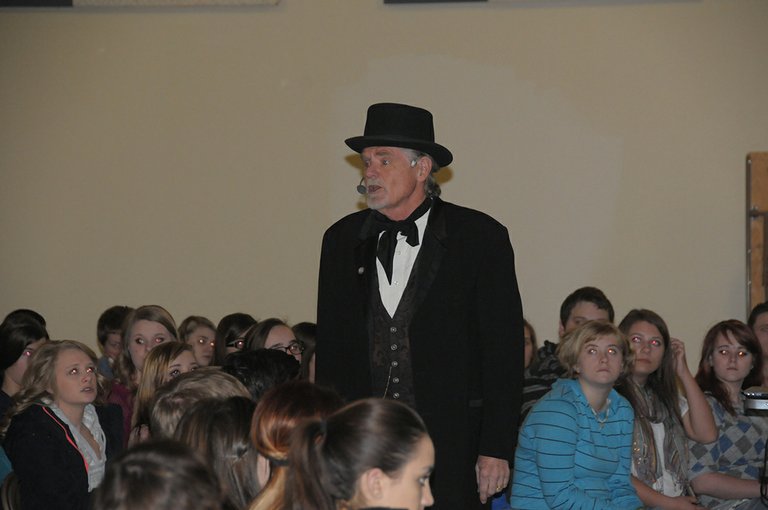 Wednesday, March 12, 2014
GRANGEVILLE – "Did you know Abraham Lincoln's wife was in deep depression? Did you know he was on a suicide watch for what, at the time, was identified as 'melancholia?'" Garry Bush asked the Grangeville High School student body.
Bush presented the program "Idaho and Abraham Lincoln," last Wednesday, March 5, at the school. Bush is an Idaho historian and former teacher who lives in Lewiston and presents living history programs.
"We know Lincoln was the 16th president of the United States and that he was a tall, lanky man – but what else do we know? Do you know how he affected the state of Idaho?" Bush asked the crowd.
Bush told how Lincoln was offered the position as Oregon territory governor but turned it down because his wife said the Oregon area was "too uncivilized."
Bush explained the devastation of the Civil War, stating it took the lives of more American men than all other wars combined.
"Lincoln was interested in one of Idaho's greatest natural resources – gold," Bush said, showing photos of mining in Riggins, Orofino and Lewiston. "More than $3 million worth of gold was discovered in Idaho in one year – now that would equate to a half a billion dollars."
Bush explained how mining populated and changed the territory – one in every four miners was Chinese – and how "there were Hurdy Gurdys all over. More than 25 in Lewiston as well as ones in Stites, Kooskia, Elk City, Grangeville … and what's a Hurdy Gurdy? The women upstairs … the women who kept men company." Hurdy Gurdy girls (possible named for a violin-shaped instrument of the same name or the uproar caused when the instrument was placed) also gave way to the name "Hurdy Gurdies" which was a generic name for the houses of ill repute.
Lincoln began to appoint friends and political compadres to work on establishing Idaho as a territory and claim the gold for the Union to help fight the war. An interesting fact, Bush explained, is Dixie was an area were confederate sympathizers gathered (and thus why the townsite was named "Dixie") and those there sent their gold on to help with war efforts.
Abraham Lincoln is intimately tied to Idaho, Bush said. In the early morning of March 4, 1863, Lincoln signed the act creating Idaho Territory. However, his involvement ran much deeper than that. He appointed more than a dozen officers, men who established the foundation for Idaho government. Lincoln's representatives negotiated treaties with Idaho tribes that still determine the relationship between the federal government and Idaho's Indian peoples. And Lincoln championed legislative efforts that transformed Idaho. More than 60,000 Idahoans filed homestead claims as a result of his Homestead Act. The Pacific Railway Acts encouraged construction of transcontinental railways. In addition, the Morrill Act provided for the establishment of land-grant colleges, including, eventually, the University of Idaho.
Bush brought along several artifacts for students to see including mining equipment used in Florence, gold and silver and tintype photographs, all from the 1800s.
Bush's presentation was sponsored by Lewis-Clark State College Speaker's Bureau.