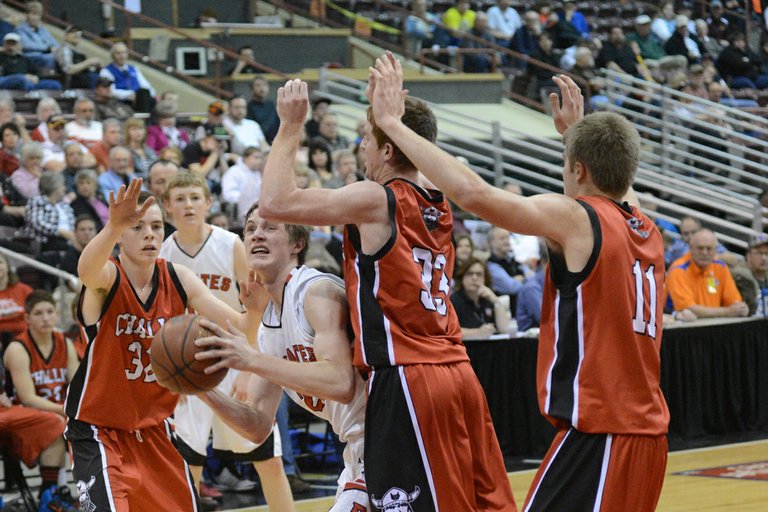 Wednesday, March 12, 2014
NAMPA — Jake Bruner is built like Prairie coach Teel Bruner, his dad: tall and muscular. Tanner Ross and Lucas Arnzen are also tall and muscular, with Ross perhaps a bit taller and Arnzen perhaps a bit sturdier in build.
When Jake Bruner smiles, the history buff in the PHS cheering section might be reminded of old sayings, usually attributed to Winston Churchill, about grinning while fighting.
With 19 points in 19 minutes during the 1AD1 championship game last Saturday, March 8, Bruner had a lot to grin about. Like his dad, he saved the smiles for the end.
But in truth, Prairie made the victory look more like a day's work than mortal combat. Along with Jake Bruner, Ross and Arnzen functioned like interchangeable parts of an assembly line at a layup factory, with Teel Bruner the foreman barking throughout the whole shift to boost their collective efficiency.
Challis fell 78-43 in the 1AD1 championship game last Saturday, March 8. Glenns Ferry and Genesee on Thursday and Friday fared little better; Prairie won the three games by a combined 207-122.
Prairie's three big men combined for 121 in the tournament: Arnzen (48), Bruner (45) and Ross (28).
Without any obvious answers inside, Challis fell into disarray early, calling for time out when Prairie took a 4-0 lead. Ross made it 6-0, then Challis scored.
Bruner raised Prairie's lead to 18-9, but picked up his third foul with a minute left in the first quarter.
Had the Vikings craved a fight, this would have been the moment for Challis to get physical and hope for a few more calls; instead, Teel Bruner implored his squad for more production and Prairie's layup line only sped up.
Tyler Hankerson scored at short range, followed by Arnzen, then Ross on a tip drill putback — a run culminating in a 21-point Prairie lead at 32-11.
Challis notched an 8-1 run at the end of the quarter, which ended with Prairie leading 35-21 on Arnzen's late layup.
The official scorer at Idaho Center recorded none of those short shots as points in the paint; instead these were booked as 16 second-chance points on 15 offensive rebounds as Prairie outworked Challis in the key.
The Pirates continued to dominate down low during the second half, ripping off 43 total points: six more on second-chances and 24 in the paint.
Prairie came up with more than half of all available rebounds at their end, outdoing Challis 20-19 on their glass. Prairie's rebounders also dominated the defensive glass, producing a 48-27 margin on misses.
Had Challis managed a high shooting percentage, the bounces may not have mattered; instead, faced with fervant defense, the Vikings bricked more than twice the number of shots they made.
Prairie's guards also produced, forcing 27 Challis turnovers and outscoring the Vikings 27-10 in transition offense.
Chalk up that stat to Rhett Schlader, who booked eight steals and five assists on an otherwise quiet night.
Hankerson (11 points), listed as a guard, scored double figures, as did Prairie's big forwards: Bruner scored 19, with Arnzen (20 points, 11 rebounds) and Ross (12 points, 10 rebounds) delivering double-doubles.
Prairie 47, Genesee 29
CALDWELL — Once again, Prairie outclassed its opponent in the paint. But a Whitepine League rival had a fleeting answer for Prairie's press defense and post offense: all-out effort.
The Pirates weathered a storm for eight minutes during the second round of the 1AD1 boys basketball tournament last Friday, March 7, after which Genesee's surge slowed. After halftime, Prairie's productivity put the game away.
A 7-2 run had PHS up by three at the break, and Prairie ran that margin to 13 during the third quarter and added to the lead during the fourth.
Bruner put up 20 points, more than offsetting what the Tilleman brothers, Beau (11) and Reggie (8) produced for Genesee.
Lucas Arnzen, with 10 points, matched all other Genesee scorers. Rhett Schlader (8), Tanner Ross (4), Jared Higgins (4), and Tyler Hankerson (1) provided the rest of Prairie's margin of victory.
Prairie 82, Glenns Ferry 50
CALDWELL — Prairie never gave Glenns Ferry an inch, playing full-court pressure against an opponent ill-equipped to play the pace the Pirates decided to command.
Plundering the passing lanes, Prairie produced an immediate 15-2 lead, to which the Pirates added continually until substituting with about 10 minutes left.
Rhett Schlader finished with 11 points to go with 12 from Jared Higgins and 18 from Lucas Arnzen.