Wednesday, March 12, 2014
3Rivers Amateur Radio Club
At the February meeting there was a discussion of what local areas that either can't communicate or have difficulty communicating. Ways to communicate with areas such as Elk City were discussed. Communications support for the Riggins Jet Boat race was discussed as was the Field Day in June.
At the March meeting there will be a sign-up sheet for the Riggins Jet Boat Races coming up in April. As many hams as possible are needed both for shore positions and for safety boat communications. We will also talk about plans for the Amateur Radio Relay League Field Day taking place on June 27-28.
The club would also like to visit the local schools to introduce amateur radio to young people. Contact information is needed.
For club information, call Bob Finch at 926-4155. For examination information, call David Brainerd at 926-7886.
—David Brainerd
Rough Riders 4-H Club
Rough Riders 4-H Club met Wednesday, Feb. 26. Those present were Rachel, Kayla. Hailey, Micaela, Emmy, Colby, Macenzie, Bella and Kortney as well as leaders Debbie and Lisa and five parents.
The horse bowl is set for March 20 and we will practice before that. April 12 is the county 4-H party and April 22, both in Cottonwood.
Horse identification forms need to be turned in soon so they can get to the extension office by April 1. Talk to Debbie or Lisa.
Lisa reported on the horse leaders meeting saying the White Bird horse judging clinic is set for April 26 at White Bird and will include a costume contest. Also, the horse show is definitely set for July 26.
The 4-H party will be held April 12 and officer training will be April 22, both in Cottonwood.
It was decided to purchase new shirts that will be black with turquoise print and white lettering.
Kayla gave a demonstration on parts of the saddle. Rachel and Kortney gave a demonstration on their Know Your Government trip to Boise and held a mock legislative session with Rough Riders.
— Hailey Russell
Big Cedar Homemakers
On Feb. 12, 12 members of the Big Cedar Homemakers club met at Cathy Ward's house. The meeting was called to order by President Madelon Gribble.
Madelon Gribble explained that the Community Club is a $10 lifetime membership fee and allows anyone to rent the Big Cedar Schoolhouse for $10 an event. 
Cathy Ward discussed some Big Cedar Schoolhouse projects: fixing the back step railing, smoothing out the cooking area outside, using gravel to smooth out the table area, and painting the storage shed. Cathy and Robert Ward discussed fixing the windows by the stove that are leaking. Madelon agreed that as soon as the weather is good we will proceed to replace the windows. The schoolhouse is rented through May, so June will be a good time for the repairs.
It was reported that the Ridge Runner Fire Department sold 127 pizzas for their fund-raiser.
Irene Finehout mentioned that Tahoe QRU is contemplating a bingo night as a fund-raiser. There was much support from the members. Tahoe QRU continues their donut Tuesday from 9 a.m. to noon.
Kris Perry discussed the well that was drilled at the Kooskia Kiosk. Kooskia Revitalization was in charge of the project. They will be doing a fund-raiser in March at the Community Hall for funds to finish the project.
Laureen Raff demonstrated how to crochet kitchen scrubbies and Cathy Ward demonstrated how to make finger knit scarves.
Big Cedar Homemakers is open to any ladies in the area. We meet the second Wednesday of each month. Contact Irene Finehout at 926-4783. 
—Irene Finehout
Cottonwood Senior Citizens
Dolores G. Seubert opened the March 4 meeting of the Pioneer Senior Citizens with the Pledge of Allegiance and also gave the dinner prayer. Marge Lamb of Cottonwood came with Tom and Irene Terhaar and Louis and Jean Ulmer of Kamiah were also guests this week. There were 45 meals served with 18 takeouts. Mel Willis won the free dinner. Hilda Nuttman, Joyce Forsmann and Chris Remacle were this week's joke tellers.
Agnes Forsman and Mel Willis split the nickel bingo pot while Hilda Nuttman won the blackout. Door prizes were won by Sharalyn Forsmann, Jim Beckman, Edna Webber, Ed Wassmuth, Barbara Rehder and Cheryll Webber.
Menu for March 18, St. Patrick's Day: corned beef and cabbage, potatoes, carrots, green Jell-O, cookie.
Grangeville Senior Citizens
The Feb. 24 meeting was opened with the Pledge of Allegiance led by Stan Modrell and the prayer by Orville Biggers. Guests were Eddie and Connie Anderson. The free dinner came to Linda Orcutt. There were 62 meals and 20 takeout meals served.
The nickel bingo winner was Mary Purdy and blackout winner was Katie Remacle.
Gordon Talley provided music, and Deb Merica gave a talk on preventing falls.
The Feb. 28 meeting was opened with the Pledge of Allegiance led by Stan Modrell and the prayer by Barbara Essen. Guest was Carla Wilkins speaking on safety education. The free dinner came to Lucy Loeber. There were 70 meals and 31 takeout meals served.
Jokes were told by Larry Clark and Joyce Forsmann. The nickel pot came to Mary Purdy and blackout winner was Alta Clark.
The menu for March 7: baked fish fillet, au gratin potatoes, green beans and fruit cocktail and birthdays were celebrated; March 10: sweet and sour chicken, rice, creamy coleslaw, juice and apricots.
Fenn Livestock 4-H The Fenn Livestock 4-H Club met on Feb. 26. The treasurer's report was given, and members deliberated on how the money was to be spent. Club officers were appointed. It was decided that McKenzie Kennedy is to be president and Cody Frei vice president. Katrina Frei was appointed club secretary, Madison Pecarovich as treasurer, and Emily Kaschmitter, reporter. The club community service projects were discussed, and three community projects were chosen; a canned food drive for the food bank, a visitation to the assisted living center, and a garbage clean-up around town. The current dates for these projects are April 8, May 13 and June 18. Demonstration and presentation dates were given to certain members who volunteered.
The next meeting for Fenn Livestock is on March 17 in the community room at GEMS. Anyone interested in joining Fenn Livestock, call Cindy Godfrey at 983-3514. We hope to see you there!
—Emily Kaschmitter
Valley Garden Club members get together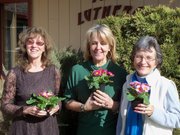 President Lorraine Smith presided over the Feb. 17 meeting at Faith Lutheran Church in Kamiah with 21 members and seven guests in attendance. Linda Morrison was hostess and Kay Riga and Mary Sellitti served as co-hostesses.
Food As Medicine-Eat Your Weeds, was presented by Geneva Bean, a Holistic nutritionist. We learned of the high medicinal value of vegetables, berries, and edible weeds. Eve came prepared with handouts from various herb classes she taught and recipes for soups, smoothies, salads, as well as a few formulas and ointments made from herbs.

The Clearwater District spring meeting is March 20 in Kendrick. All members planning to attend need to let Lorraine know before March 14.
May 9 is the date for our annual plant sale in Kooskia. Lu Eckhardt and Lenette Smith will purchase gardening items to fill the plant sale raffle basket. If the public has extra plastic garden containers or any perennial plants, raspberries, strawberries, rhubarb, etc., you would like to donate, phone Lorraine at 926-4158.
Our new Flower Show Judges, Linda Morrison, Lenette Smith and Leann Wicks, were recognized by the members with gifts of a primrose and monetary envelopes. All Valley judges are to discuss the 2014 Idaho County Fair schedule and make plans for the June flower show.
The next meeting is at 11 a.m. March 18 at Fenn Ranger Station.