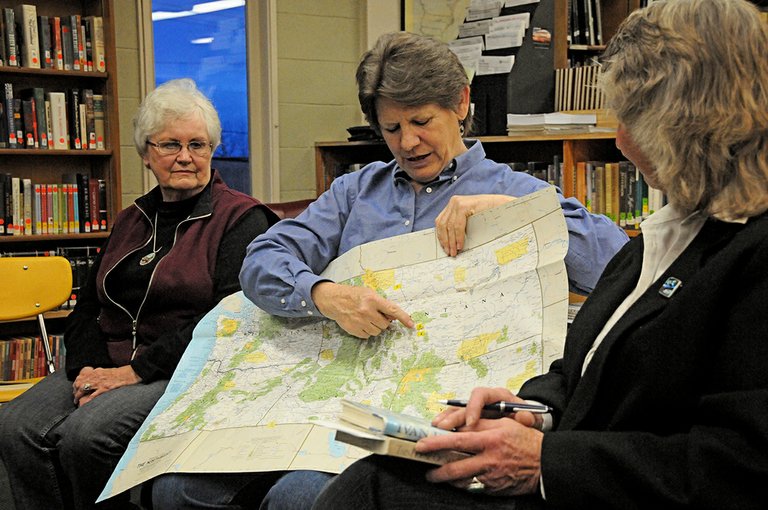 Wednesday, March 19, 2014
GRANGEVILLE — "I didn't choose this book – it chose me," said Wendy Green. Green was the scholar for the "Let's Talk About It" series Tuesday, March 4, at the Grangeville Centennial Library.
Green said she had moved cross country to Connecticut and was working at a bookstore when she came across "The House of Sky" by Ivan Doig.
"I was out of place on the East Coast and this really took me back to the landscape of Idaho," Green said. Now a freelance writer living in Indian Valley, Green earned a degree in English from the University of Colorado at Colorado Springs and is retired from a 31-year career in radio broadcasting.
"Too many metaphors," laughed Sally Nolan.
"Oh, I love his books," threw in Shelly Dumas.
Eleven people attended the open book club session to discuss the book and author as well as their own life experiences.
"I have been in the area he wrote about, White Sulphur Springs [Montana], many times," said Kristin Frish of Cottonwood. "I had one of those magical moments there one time when the moon came up and highlighted the mountain ranges on all sides," she said.
Doig wrote the memoirs of his nontraditional family – growing up with his father and maternal grandmother following the death of his mother when he was 6 — because "I didn't want my knowing of it to go from me," he wrote.
Let's Talk About It is sponsored by the Idaho Commission for Libraries (ICL) with assistance from Idaho Humanities Council, US Bancorp Foundation and Institute of Museum and Library Services. GCL's Friends of the Library assisted with a nominal monetary amount that helps pay for the shipping of the books. Books are on loan from the ICL to be used throughout the program in Grangeville.
Those interested in joining the group are invited to stop by the library at 215 W. North Street. Call 983-0951 or e-mail durquhart@grangeville.us.
The final two in the reading list are:
•Tuesday, March 25, 5:30 p.m., Hole in the Sky by William Kittredge (scholar: Barbara Meldrum)
•Tuesday, April 15, 5:30 p.m., Reservation Blues by Sherman Alexie (scholar: David Barber)