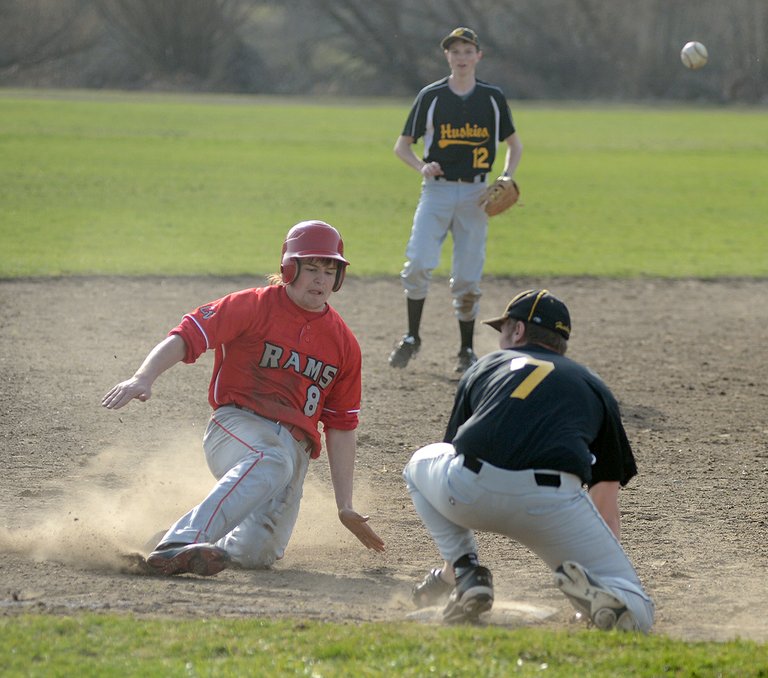 Wednesday, March 26, 2014
KOOSKIA — Prairie's first baseball season in recent memory began with a blast March 17 against a Clearwater Valley squad guided by a new hand. CV's bench boss, Josh Bradley, has a group of 16, of whom 14 have been regulars with his Babe Ruth and little league squads for years.
A year ago, when ace Brandon Owens and the Rams stepped between powerhouse Potlatch and a state tournament berth, CV lacked a clear-cut No. 2 pitcher. With Owens unavailable, Bradley recommended Dillon Fisher to then-coach Brent Jacobs on account of Fisher's competitiveness.
"Dillon Fisher was on my first Babe Ruth team," Bradley said. "He goes 100 percent every time he plays. He just goes hard. He competes."
CV's season ended in a 7-0 loss and Owens (who also filled the gaps at catcher and shortstop) graduated. But with Fisher on a tear — he has seven hits already — and six returning sophomores and six incoming freshmen coming around, the Rams are primed to renew their insurgency in the Whitepine League.
"We played really tight against Prairie," Bradley said. "Cody Morrow pitched great. He had seven strikeouts and only allowed four or five hits in six innings. It was 5-1 when he went out, so the final score (11-1) is a bit deceiving."
"But credit Prairie," Bradley said. "Clark Bruno pitched great. It was their first game, too, and they came to play."
Clearwater Valley (2-1) bounced back with a 30-run rout of Nezperce on March 18.
For its second win of the season, CV edged Highland 6-5 last Monday night, March 24.
Behind starting pitcher Tyler Massey and reliever Cody Morrow, the Rams committed seven errors to allow Highland to come back from a 5-2 deficit.
But not all the way back.
Third baseman Kaden Carr atoned for an earlier error with a leaping effort to keep a high throw on the infield. Had it gone into the outfield, the tying run may have scored. Instead, Morrow struck out the side to strand the runner at third base.
After leading much of the game, CV stumbled into a 5-5 tie in the top of the sixth. After drawing a one-out walk, Massey stole second and advanced to third on an error off Morrow's bat. After an infield fly put William Hill at first and forced Morrow out at second, Will Weaver was hit by a pitch, loading the bases with Carr to bat.
Craigmont huddled at the mound and put on a pickoff play, which caught Massey away from third, only for Massey to ruin the plan by stealing home.
Hill (three RBIs) and Fisher had two hits apiece. As a team, CV stole 11 bases.
Prairie 11, CV 1
KOOSKIA — Prairie senior Clark Bruno shut the Rams out for five innings on March 17 — the Pirates' first game since 2011. Devin Bruegeman finished it with a shutout seventh.
Calvin Hinkelman knocked two singles for the Pirates, who piled up 11 runs on seven hits. Casey Danly and Bruno delivered extra-base hits with a double apiece.
The Rams committed nine errors behind pitchers Cody Morrow, Wyatt Martin and Tyler Massey. Morrow threw strikes until his day ended with a 5-1 deficit; Martin struggled with walks.
The Rams were scheduled to play at Kamiah after the print deadline; up next, CV has games scheduled at home March 27, 5 p.m. against Genesee and 10 a.m. at home April 5 against McCall.
Prairie 16, Kamiah 4
KAMIAH — When Kubs starter Branson Ballantyne went down with an apparent groin injury, the Kubs' chances of hanging with upstart Prairie last Thursday, March 20, also went down.
The relief pitchers inherited a 2-0 deficit which rapidly ramped up to 7-0 amid a slew of walks.
Kyl Donaldson slugged a couple of triples for Kamiah, including a two-run smash in the third inning. But with Prairie's runners continually on base ahead of batters who combined for eight hits, the Pirates ripped off a six-run fourth.
Earlier this season, Kamiah hammered Nezperce 18-8 March 13 and earned a split with a 17-7 win over reigning champion Potlatch.
Ballantyne powered the win over the Loggers with three hits and seven innings pitched.
The Kubs erupted for 15 runs during the second inning and finished the game with 17 hits.
The next day, Prairie fell to McCall 8-3 and missed out on a split when the second game was called for darkness with PHS leading 5-2. On March 22, Genesee swept Prairie 8-3, 3-2.
Up next, Prairie (2-3) will play Troy at 4 p.m. March 28 at LCSC, and will host Potlatch at 11 a.m. March 29.