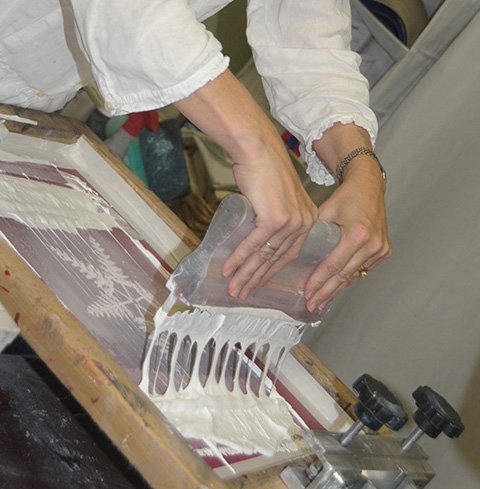 Wednesday, March 26, 2014
GRANGEVILLE — From customized shirts and aprons to water bottles and towels, Imprint Graphics has it all.
The store, located at 158 East Main Street, Suite 3, is a cozy haven that offers a plethora of gift items as well as easily-personalized items such as tea towels, shirts, onesies, tote bags, aprons, bathrobes and pillow- cases.
"I keep a low overhead so the prices are affordable," explained owner Laurie Rockwell.
Rockwell started the business with her father, who lives in West Port, Wash., three years ago.
"He has been a commercial fisherman much of his life and now works in the cannery," she explained. "He had wanted to get some clothing embroidered and was bummed out to see how many items he would have to purchase."
This gave him the idea to help Rockwell get started in the apparel embroidery business which has since led to screen printing and a heat press. She started out in her home and recently moved to Main Street, next to Camas Prairie Eye Clinic.
Rockwell has examples in her store but can order other items of clothing and merchandise as needed depending on the customer's needs.
She does all her work by hand, designing on her computer then using a thumb drive to place the items on her embroidery machine or printing the designs out to screen or heat print. The store also offers a variety of ready-made gift baskets and personalized items for graduation, weddings, birthdays, baby showers and more.
Rockwell has a variety of items available for sale at Grangeville Flower and Gift Shoppe and will soon include a "Bulldog" section there as well. Any embroidery order she is unable to do herself she refers to local embroiderer Julie Bentley.
"As much as possible I like to keep purchases here and help out our local economy," she said.
Imprint Graphics is able to complete business promotional items, personalized invitations and additional graphic work as well as customize items with personal photos.
"I love the creativity of this and there's really so many different things I can help do – I just invite people to stop in and see what's here or tell me their ideas and I will work with them," Rockwell said.
Stop by the shop or call Rockwell at 507-2178 or e-mail Rockwell@connectwireless.us.